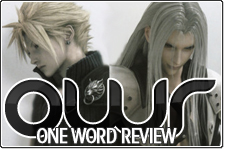 Final Fantasy VII is one of the most revered role-playing games of all time. It was Final Fantasy's first step into the 3D realm, and was an introduction to both the genre and to epic videogame storytelling for many-a-gamer.
The number of forum usernames that are some variation of "Cloud" or "Sephiroth" is staggering, and making disparaging remarks about FF7 on many internet message boards is enough to get yourself flamed worse than barbeque chicken. What sort of remarks do we have to make about the game?
Brendon's OWR: "Overrated"
Eddie's OWR: "Pivotal"
Demetri's OWR: "Graphicshifting"
Creighton's OWR: "Androgynous"

John's OWR: "Aged"
Chris A's OWR: "Longwinded"