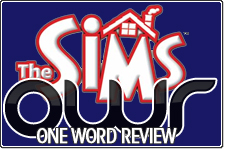 If you've been hanging around GamerNode at all this weekend, you've probably noticed that Brendon has gotten his hands on the full version of the Spore Creature Creator and has been streaming his editing sessions live, as well as having posted a handful of creature videos. With the Creature Creator coming out this week, GN decided to One Word Review another of legendary designer Will Wright's games, The Sims. It's been called "engrossing," "fascinating," "addictive," and even "tiresome" in the past, but what does the GN staff have to say about it?
Frank's OWR: "Overload"
Eddie's OWR: "Emulife"
Chris P's OWR: "Strategic"
Chris A's OWR: "Overhyped"
Demetri's OWR: "Expansions"