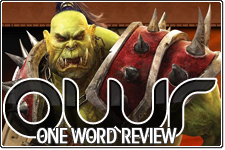 The free-to-play MMORPG Mythos was on the receiving end of a large-scale retooling this weekend, moving from an almost entirely instanced gaming experience (save for hub towns and safe locations, a la Guild Wars) to a persistent world style, much akin to a familiar Blizzard game. In celebration of that, GamerNode will be reviewing World of Warcraft in the One Word style this week. Here's what we have to say about it:
Brendon's OWR: "Inexplicable"
Eddie's OWR: "Template"
Demetri's OWR: "Popular"
Creighton's OWR: "Soulsucker"
John M's OWR: "Friendstealer"