After invading PC, Mac, iOS, Android, XBLA, PSN, and the Nintendo DS, PopCap Games has finally shambled its way over to Facebook via its new outing Plants vs. Zombies Adventures. Mixing the series' classic brain-eating tower defense mechanics with a simulation/social network setup (a la Farmville), PopCap has created a hybrid that's as addictive as the original game.
With the impending release of Plants vs. Zombies 2: It's About Time (not  "It's About Thyme"?!?) in July, PopCap has given its fans a carrot to chase while they wait out the days until they can defend their houses against hordes of goofy, lovable zombies. While Adventures may be relegated to the dredges of the Facebook world, don't let that fool you into thinking this is just a cash grab from PopCap and Electronic Arts. Adventures is an impressive game with so much to do, players won't be tempted to dole out their hard earned dollars to get ahead via the game's not-too-obtrusive micro transactions, or be one of "those guys" by asking friends to join the fight.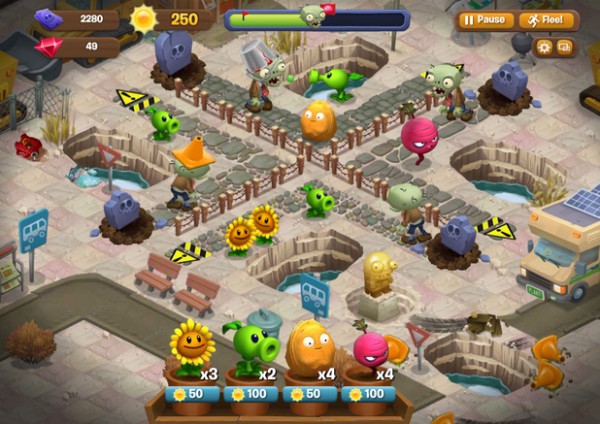 Adventures is divided up into two sections: tower defense and town simulation. The tower defense looks different than PvZ fans are used to, but is easy to pick up and master. Players must defend their RV from wave after wave of zombies, using their collection of botanical weapons to topple the opposition. Each level is a puzzle unto itself, requiring the player to strategize which plants to use and which to leave at home. Instead of the typical straight, mowed lines of grass, zombies now drag themselves down the sidewalks that wind through each level, stopping to chomp any plant that gets in their way. These levels are relatively short (less than five minutes) and don't take too much brain power to complete — but serve as a interesting way to break up the pace of the simulation side of the game.
While fan-favorite plants return from the original game, new plants like the Beet and Aspearagus bring their own specialties to the game. Players collect suns to power their plants, and if a plant gets eaten by a zombie, a few moments later it can be rejuvenated by depositing a sun drop onto its corpse. There are also "Special Plants" that players acquire through beating different levels that have hyper abilities. Only one Special Plant can be used each level, and they're hard to come by, so don't use them up too quickly. While in battle, players can also spray their plants with pesticide for a five-second stat boost. The pesticide is a nice touch and while the new plant abilities aren't game changing, it's nice to have some new pets to play with.
Just like the plants, PopCap has brought your favorite zombies back to life while ushering new friends to the party. A gangsta zombie (named DJ Zom-B), wearing a bunch of sideways hats, and a hillbilly zombie with a barrel for a shirt have higher defense than a normal zombie, and more zombies have been teased for later down the road. Zombies can be slowed down by using the pesticide bottle, but not much else has changed with the anatomy of zombie attacks.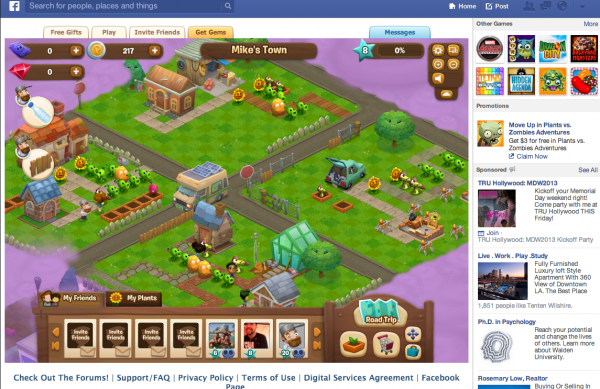 After each level is defeated, players are given some Zombucks and Coins — two of the three monetary standards in the game — and are given the option to return to their home or continue on their adventure. Defeating levels usually coincides with a mission acquired from town, and rarely was I able to knock out one level without having to return home for some housekeeping.
Back on the homefront, players get the chance to create new plants, build structures, visit friends' towns, and possibly get attacked by zombies. Starting with one plot of land, players have planter boxes to grow their weapons, which costs some coins each time they need to plant. These plants can be used to defend buildings from randomly generated zombie attacks or for use in battle on the adventure. Depending on the plant, players can wait up to a few hours for the seed to bloom into use. But, the trusty Peashooter and Sunflower only take a minute or two to grow, so players won't be waiting hours between levels.
Buildings cost Zombucks, but generate coins to let the player grow more plants. Buildings can be leveled up to produce more coins per hour, and are at risk of being attacked during the random zombie attacks. Some buildings give the player special bonuses to be used in battle, like a fly zapper that freezes all the zombies for ten seconds, or a second set of lawnmowers as a last line of defense for the RV. Just like Farmville, the simulation part of Adventures is equal parts addicting and frustrating (especially if you're sitting down specifically to play this game). For someone like me, who is at their computer all day, having a tab open with Adventures means I can let my plants grow and check in on them every once and while. If you do decide to just sit down at your computer solely to play, I have to imagine that at some point you'll be tempted to purchase some gems with your real life dollars.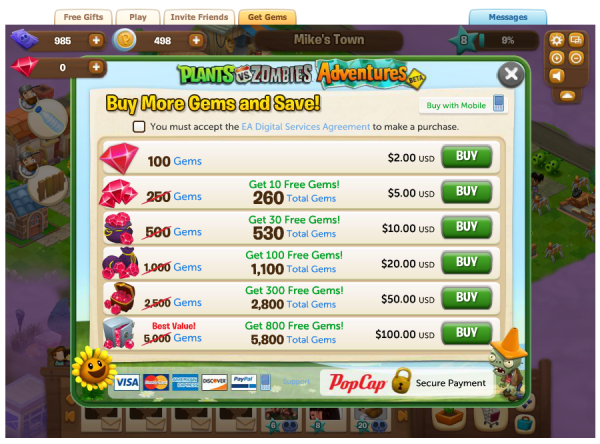 Like all Facebook games, Adventures baits you with micro-transactions and friend requests. While neither of these features are shoved right into the player's face, they're apparent in the game and can expedite the slow game progress. Gems can be purchased with real money and are used to speed up building wait times, buy plants without the growing time, and purchase Zombucks. Zombucks are used to purchase and upgrade buildings and to skip the mandatory "friend request" section of the game. Coins — as stated earlier — buy plants to use for defense. Whew! While this seems like a confusing, unnecessary part of the game, it's quick to pick up and I have yet to even think about purchasing gems.
Facebook friends can also help in your adventure, but for the most part can be avoided. Players can visit their friend's towns and send zombies to attack, earning them coins and Zombucks. Some missions are attached to visiting friends' towns, and occasional roadblocks in the adventure can only be passed by recruiting friends who don't play Adventures. Facebook lets you know which of your friends are already playing Adventures, so asking friends to join you is less horrible than other Facebook games. You can also use Zombucks to skip the "Invite Friends" roadblocks, and so far I've only had one mission that I couldn't complete because I refuse to ask friends to play this game.
Plants vs. Zombies Adventures is a fun, addictive side step from the PvZ franchise and shouldn't be missed by players who usually avoid Facebook games. Adventures feels like a full-fledged game, and shows once again that PopCap pulls no punches when it comes to their franchises. Three days into Plants vs. Zombies Adventures andI haven't given a dime, have had a whole ton of fun, and am watching my little town grow into a zombie-killing powerhouse. While I don't plan to ever give in to the micro-transaction business, if this exact game without micro-transactions dropped on Steam for $15 or less, I'd be scooping that up to bide my time until the zombie-killing sequel.