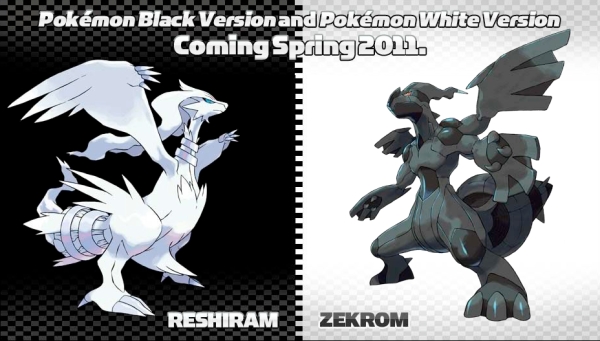 Today on their official Pokémon website, Nintendo announced that U. S. versions of Pokémon Black and Pokémon White will see a Spring 2011 release. A brief teaser trailer appears upon entering the site, found here.
Along with the release date, two new legendary Pokémon have been revealed. Reshiram, which repesents Pokémon White, and Zekrom, which in turn represents Pokémon Black. There has also been speculation online that Light type Pokémon may finally be introduced into the series. Dark types have existed since the original Gold and Silver games on GameBoy.
Pokémon has been one of Nintendo's most beloved and lucrative franchises since its inception in1996. If the success of last year's SoulSilver and HeartGold versions is any indication, Pokémon Black and White should have no problem dominating the sales charts next Spring.
Gotta catch 'em all!
[Pokémon]