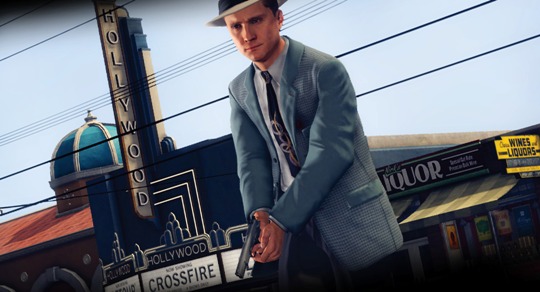 Yesterday, Rockstar Games revealed the official box art for their newest upcoming title L.A. Noire. Today, the company unveiled all of the exclusive pre-order bonuses that will be available at certain store chains.
The special pre-order content will be only be available to those who reserve their copy at Amazon, Best Buy, GameStop, and Wal-Mart, with each store receiving different content from the others.
GameStop will be getting two pieces of content to distribute to those who pre-order at the chain's locations. First is the "Naked City" Vice Case, where the alleged suicide of a beautiful fashion model turns out to be much more than it originally seems.
Also available will be the Badge Pursuit Challenge, a collection quest that will have players looking for 20 police badges spread throughout 1947 Los Angeles. Completing the collection will unlock the Button Man suit for Detective Cole Phelps that allows extra ammo for each weapon, while each individual badge earns five experience points that can be used unlock Intuition Points.
Pre-orders coming from Wal-Mart will get the "A Slip of the Tongue" Traffic Case. The case has Phelps investigating a simple car theft that unravels a major auto fraud racket. The content will also be available for anyone who purchases the game in-store on release day, May 17.
Amazon pre-orders will get the Broderick Suit, which will boost fist-fighting capabilities and resilience to damage. Those who pre-order at Best Buy will get a different suit, "The Sharpshooter", that will give the player extra precision when aiming.
Anyone who prefers to make their purchases at Target won't be completely shut out of the pre-order hoopla. Though no in-game content will be available, pre-orders at the chain will warrant a $5 Gift Card. In-store purchases during release week will garner a Rockstar Games T-shirt.
L.A. Noire is set for a May 17 release in North America and May 20 release in Europe for the PlayStation 3 and Xbox 360.
To see the details in picture form, be sure to check out the pre-order posters below.