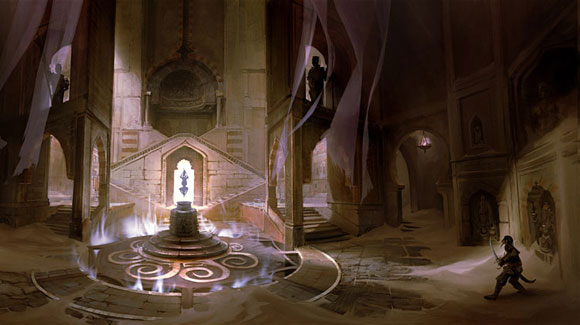 Anyone confused by the reveal trailer of Prince of Persia: The Forgotten Sands can now have clarity. The Prince, in a new game after a series reboot and wearing clothing reminiscent of The Warrior Within from the old series, caused a bit of uncertainty by just where Ubisoft was going with this new title.
Ubisoft now has clarified that the game is indeed a part of The Sands of Time series and not a sequel to the 2008 reboot, Prince of Persia. The game is set to take place during the seven-year gap between The Sands of Time and The Warrior Within, where the Prince went from upbeat hero to brooding warrior.
The game looks to capitalize on the upcoming film adaptation of The Sands of Time, starring Jake Gyllenhaal and directed by Jerry Bruckheimer. It will also look to explain just why the Prince suffered such a drastic change in character between the first two games of The Sands of Time series.
"All that I'll say is that, obviously, there's a difference between the Prince from The Sands of Time and Warrior Within, and there was like seven years that passed between those stories where he became that new guy," said director of level design Michael McIntyre in an interview with Joystiq. "So, obviously, some bad things happened to him in that amount of time, and this is that time frame — where The Forgotten Sands' story is taking place. That's all I'll say."
In this side-story, the Prince goes to his brother's kingdom that is under siege by an unknown evil force. The game will use the Anvil Engine used in Assassin's Creed and Prince of Persia, 2008.
The Prince will also gain nature-controlling abilities in The Forgotten Sands. Abilities that must have become lost to the Prince after the events of The Forgotten Sands as they do not exist in The Warrior Within or The Two Thrones, the final two games in the original trilogy.
Prince of Persia: The Forgotten Sands is set for a May 2010 release on all consoles and the PC.
[Joystiq]