Pro Evolution Soccer is back for another year of simulation football, and with it are the usual host of improvements and changes made to a sports game each year. Most of the changes made to PES 2012 improve the game's mechanics, but it still stumbles in a few areas, making it a pretty good simulation of the sport rather than a truly great one.
Fans who have stuck by the series will continue to do so, as this year's offering is still worth their time. From a presentation standpoint, PES 2012 does a fantastic job of looking like a real soccer game one would see on TV. The player animations look great, even during slow-motion replays, and the play-by-play from announcers Jon Champion and Jim Beglin are delivered authentically. Cheering from crowded stadiums swells and erupts appropriately during moments of intensity and triumph, and mellows out with chants and singing during slow, back-and-forth midfield attritions. The presentation is hurt a bit by some strange menu music choices, which ranges from smooth, in-house electronica to licensed screamo tracks. Also, the stoic and lifeless Football Life mode is disappointing, and comes off as stiff and awkward at best. Fans who aren't bothered by this will find the Master League, Club Boss, and Become a Legend modes within Football Life engrossing, but they still could've been handled much better.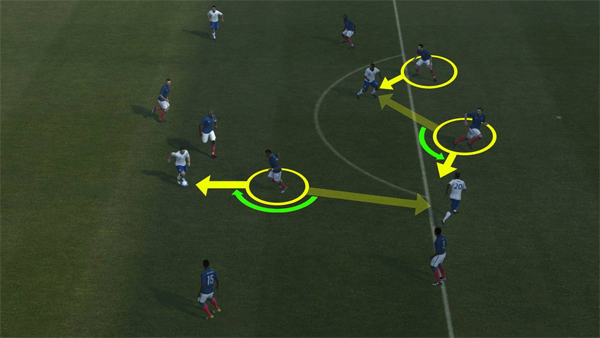 PES 2012 does a decent job of simulating the feel and flow of a real soccer game. Man-to-man passes, through passes, and ball lobs work as intended, and at times require a good degree of tactical awareness and strategy to pull off successfully. Shooting and corner kicks demand a feathery touch and precise timing, which will take newcomers some getting used, but is incredibly satisfying once executed properly.
A new game mechanic called Teammate Control is introduced this year, which lets the player point the right thumbstick in the direction of the intended pass and influence that teammate's movement. Clicking in the right stick allows directional control of that teammate, with the idea of giving the player more strategic passing options to split the defense. It's a nice feature in theory, but the added depth comes at the price of being overly complex, and doesn't lend itself well to intense situations in which quick decision-making is required.
Other eccentricities like requiring a player on your friends list to join your online Community before joining an online game with you are odd and unnecessary, but don't really hurt the game too much in the end.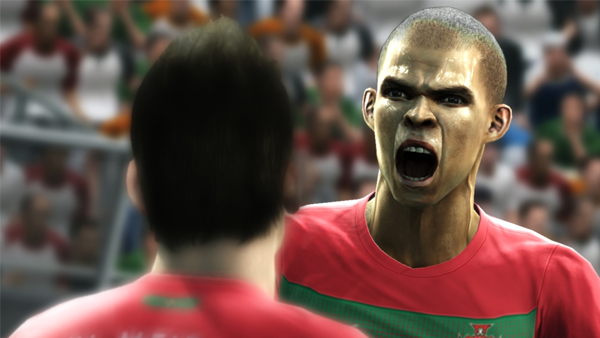 Despite these inconsistencies, PES 2012 mostly hits its mark where it counts. Offense, defense, and midfield transitions feel natural and don't get in the way of playing the game. The atmosphere and sounds of fans filling the air with screams and chants will pull you right into the game. It's a shame that a few presentation and gameplay hiccups mar the overall experience, but nothing is too severe to ruin the game, especially for fans of the series.
It'll be interesting to see if this year's gameplay additions will return next year for PES 2013, and if so, how they will be improved. Until then, PES fans will have a strong but flawed soccer game to tide them over.