Bejeweled mixed with Dragon Age: if someone had pitched this to me five years ago, I'd have laughed in their face. However, the original Puzzle Quest proved that not only could it work, but it could be a ton of fun. With Puzzle Quest 2, Infinite Interactive and D3Publisher look to expand the idea, creating a full world that players can walk around in and a story that rivals most disc-based RPGs. Puzzle Quest 2 has all of these things and more, creating a fun, classic RPG experience.
There are two main forms of control: the world map, where players walk from area to area accepting quests and looking for battles, and the battle screen itself, where matching colored jewels is the name of the game. As you match jewels, you stock however many you eliminate in order to use abilities. For example, the Barbarian class has an "Enrage" ability that creates more red gems, but it costs four red gems to cast. Aside from the colored gems, there are others that will aid you in battle as well. Gauntlet gems give the player weapon points, allowing them to strike with their equipped weapon. Matching the skull gems causes direct damage to your opponent, and whoever runs out of HP first loses. The abilities can also cause damage; the Barbarian has another ability, "Tribal Mark," where he inflicts one point of damage for every four red gems on the board. Pair that with Enrage and that's one of the many combos players can create.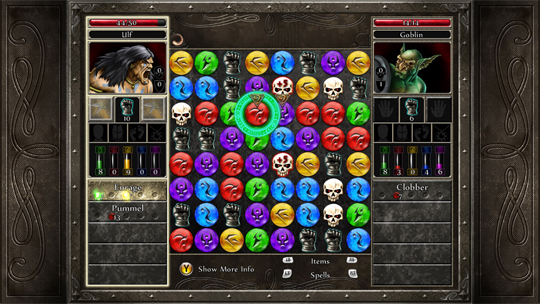 Customization plays a big part in Puzzle Quest 2, as there is a multitude of weapons and armor that can be equipped. Each of the four classes — Barbarian, Templar, Sorcerer, and Assassin — can wear any armor they want without armor penalties, but only the Templar has class-exclusive armors. Weapons are a bit more selective, as each class is limited to certain types of weapons: Sorcerers use staffs, Barbarians use two-handed weapons, etc. Buying these items requires gold, and gold is now a fully realized currency in Puzzle Quest 2, which is a huge plus. You no longer have to earn your money mid-battle, which means you're no longer distracted while a Goblin is trying to mess up your face.
Aside from the main quest, there are some modes that will get a second player involved. Head-to-Head mode is pretty self-explanatory, but the new Tournament Mode is where the multiplayer really shines. Two players will pick four monsters each from the main game and go at it WWE Survivor Series style. As one monster is defeated, a new monster takes its place, but the victorious monster does not recover any health, and the first team to lose all four monsters loses the match. This mode will more than likely be the most popular of the multiplayer selections, as it involves more playtime and more strategy.
All in all, Puzzle Quest 2 is a perfect example of Xbox Live Marketplace quality. An engaging story, a fun puzzle-based battle system, and new ways to customize your characters will have fans playing for days. If you're wary of the battle system, don't be: you'll be having plenty of fun.