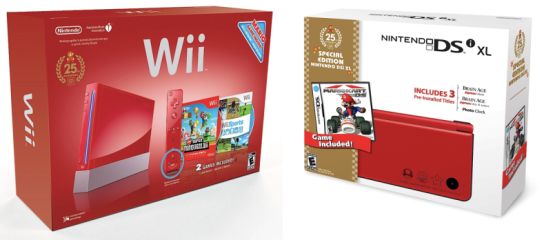 Last, but not least, the special red editions of the Wii and DSi XL are making their way to North America, commemorating Mario's 25th anniversary.
Both are set for a November 7 release, priced at $199.99 and $179.99, respectively.
Unlike the Japanese and European red Wii bundles, the North American incarnation will not have any pre-loaded classics.
But, in accordance with the other regions, a new red Wii Remote Plus will be bundled in. Also included are New Super Mario Bros. Wii and Wii Sports.
The red Nintendo DSi XL comes packed with Mario Kart DS, as well as three pre-loaded games. They are: Brain Age Express: Math, Brain Age Express: Arts and Letters and Photo Clock.
Individual Wii Remote Pluses will be available for purchase that same day in blue, black, white and pink, priced at $39.99. They will also be available, bundled in with a new Wii game, titled FlingSmash, priced at $49.99.
There is still no news on whether or not the Super Mario Collection will see a North American release.
[1UP]