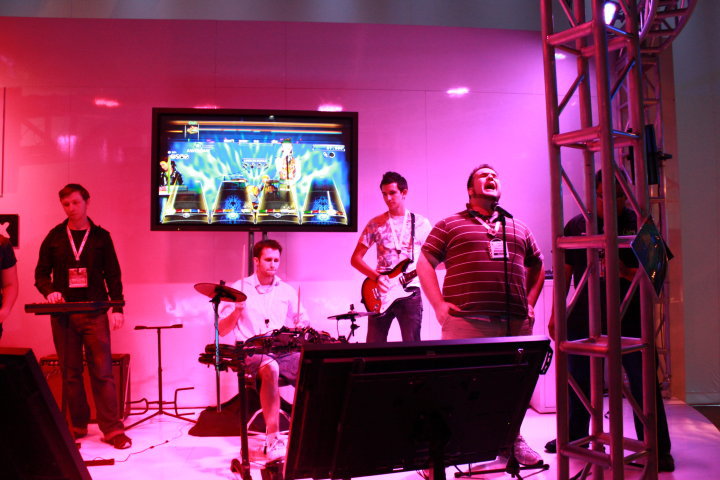 When Rock Band 3 was revealed at the end of the Green Day: Rock Band demo a few weeks ago, the teasing image of a piano/keyboard and three microphones for harmonies seemed to be the big improvements for the series following Rock Band 2. At E3 this past week, the people at MTV Games and Harmonix completely blew away those early impressions by showing that Rock Band will no longer be just a party game for mashing plastic controllers that imitate real instruments, it will finally act as a means to teach people how to play the real thing.
The behind-closed-doors E3 presentation started off with a full on performance of "The Power of Love" by Huey Lewis and the News. The band was complete with three singers, a bassist, a drummer, a guitarist, and a keyboard player. After what looked to be an even more fun and entertaining Rock Band experience, the information started to drop.
Rock Band 3 will have 83 new songs, including classics like Queen's "Bohemian Rhapsody" and "Crazy Train" by Ozzy Osborne as well as newer hits like "Get Free" from The Vines and "The Hardest Button to Button" by The White Stripes. In addition, all songs from Rock Band, Rock Band 2, DLC, and Green Day: Rock Band can be imported into the game.
With all these tracks, Harmonix made sure it would be much easier to find your favorites. There will be a new sorting and searching system that will allow players to look for songs by decade, genre, name, artist, song length, and more. Players will also be able to rate songs so that their favorites will show up more frequently in mystery and random setlists.
The game will designate a band leader who will pick songs for the rest of the group. This will prevent drummers and other members from pressing and hitting away at their buttons prematurely and ruining the process of picking a set. The game will also feature a drop-in, drop-out feature that will allow players to enter and leave songs midway through.
Career Mode has been changed, as well. Your band will now battle it out in dives and lowly clubs in order to work your way up to top venues as opposed to simply playing setlists in various locations as in the series' previous installments. Scenes will play out with your band members that will recreate the behind-the-scenes rock drama. Also, your band will be featured throughout the game's menus in various scenes representing their stage of success.
Difficulty in Rock Band 3 will be taken up a notch, as Pro Mode will be introduced to the series for the first time. Pro Mode will enable players to actually use their controllers like the real thing and will be compatible with all drum controllers, the new keyboard controller, and the new guitar peripheral. The new mode will teach players how to play each note and beat in each song properly.
The new guitar controller, the Fender Mustang-Pro, will feature 17 fret buttons and six individual strings. This will add up to a staggering total of 102 individual notes to be played. In Pro Mode, players will have to press the exact number fret and color string in order to hit the note correctly. Each note for Pro Mode guitar will have a number for the fret over the string color, and the chord for those notes will be featured on the left side of the main HUD. Pro Mode for drums in Rock Band 3 will require players to hit the exact cymbal and drum pad in order for each beat to count. Also, the new drum peripheral will ship with double-base compatibility and come bundled with the new Pro Cymbal attachments. The new keyboard controller will have full keys, and Pro Mode will require players to press the proper individual keys in order to be successful. It is also a full MIDI controller and can be integrated with recording programs to create your own music.
But the crown achievement for Rock Band 3 comes with a collaboration with Fender and Mad Catz, who is now behind the creation of all Rock Band peripherals. That achievement is the Fender Rock Band 3 Squire Stratocaster, an electric guitar/guitar controller hybrid. It features six full strings and no fret buttons. The Stratocaster will be able to plug into a real guitar amp and play songs on Rock Band 3 at the same time. This was proven during the presentation as one of the Harmonix reps played "The Hardest Button to Button" on Pro Mode Expert while it rang through the amp behind him. It was simply mind-blowing.
After the presentation, a couple of the other GamerNode staffers (Assoc. Editor Jason Fanelli on vocals, Staff Writer Dan Crabtree on bass, myself on drums) and I took to one of the stages set up in the back of MTV Games' booth. We then proceeded to belt, strum, and pound away at "Bohemian Rhapsody" with other E3 attendees filling in for guitar, harmonies, and keyboard. To say it was an amazing experience would be an understatement. If people thought playing with just four people in Rock Band and Rock Band 2 was a blast, just wait until you experience playing with a full-on seven-member band.
When it comes down to it, Rock Band 3 is looking to be the best rhythm game to date. With the entire Rock Band library coming to the game, the inclusion of harmonies, the introduction of a keyboard part, and the implementation of Pro Mode to truly teach you the instruments, this game is looking to become the be-all, end-all for the genre. Look for it to hit the PlayStation 3, Xbox 360, and Nintendo Wii this holiday season.