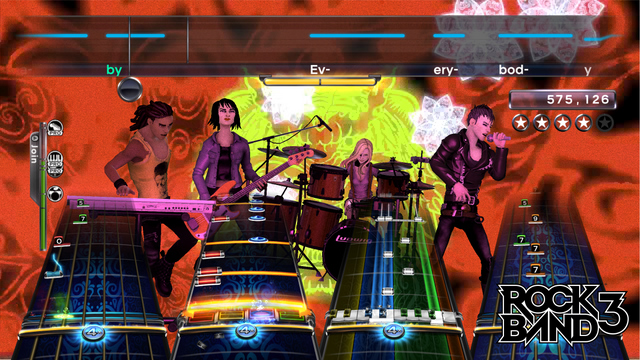 In a recent interview with IGN, Paul DeGooyer of MTV Games revealed that anyone looking forward to Rock Band 3 DLC featuring the new pro mode difficulties for the guitar are going to have to pay a little extra to get it.
Because of the difficulty in authoring the Rock Band 3 tracks for pro mode guitar over normal mode and all other instrument pro modes, DeGooyer said that DLC featuring it will be separate and cost purchasers an additional dollar.
"Right now, a typical stand-alone song for us is a buck ninety-nine," said DeGooyer. "If you wanted to buy Pro Mode for guitar on top of that dollar ninety-nine, it would cost a buck. So it's not going to be five bucks or anything. We think it's a really fair price. The alternative would be of course to include it (in the regular download) and up the price for everybody, which I don't think is really fair."
He then went on to add that pro mode for guitar won't be featured on all songs.
"I should note that not all tracks will have pro guitar mode," DeGooyer added. "(Many bands') guitar parts wouldn't rise to the level that they would need to have pro mode authoring associated with them."
Rock Band 3 will be releasing on October 21, 2010 for the Xbox 360, PlayStation 3, and Nintendo Wii.
[IGN]