Take the core elements of the Rock Band series (playing with 4-5 members in a band), subtract the plastic instruments, add a whole lot of chaos, and you've got Harmonix's next title: Rock Band Blitz. Hearkening back to previous Harmonix titles, Amplitude and Frequency, Blitz puts players in control of the whole band with just two triggers and a control stick.
There are five lanes for every song (drums, guitar, bass, vocals, and keyboard), and each has its own multiplier.  Players take control of one lane at a time, hitting notes with the left and right trigger buttons to earn points and boost that lane's multiplier. Proper timing and attention needs to be devoted to each lane. If, for example, the drum lane's multiplier is falling behind, Blitz will put a cap on the other lanes' multipliers until you bring the drums back up to speed.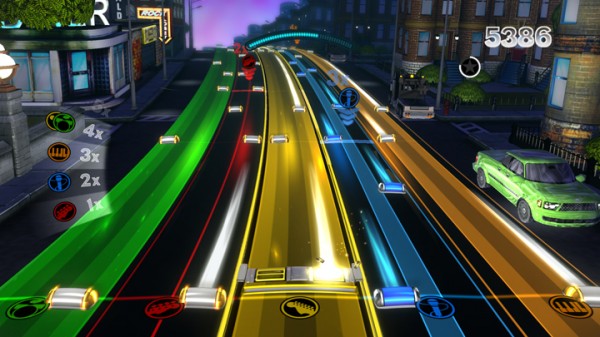 When I first played Blitz on the PAX East 2012 show floor, it did not go well. I found myself trying to hit as many notes as I could, recklessly swapping between lanes without a second thought. I was paying attention to which lane contained the most notes instead of paying attention to my multipliers. By the end of the song ("Take On Me" by A-Ha), I had three stars and a paltry 7x multiplier on each instrument. It felt wrong…like I had completely missed the point. So I tried again, and then it clicked.
I loaded up "Take On Me" one more time. As I tapped out the opening drum rhythm, bass and guitar notes started to come down the track. This time I didn't worry about hitting all the notes and swapping from track to track. I embraced the chaos. And when that infamous keyboard hook dropped in, I swapped over and knocked it out of the park.
I also experimented with the crazy power-ups, like a pinball to bounce around the screen while playing the song (think Breakout), or a firecracker that blasts away incoming notes. Eventually, the chorus came in on the vocals lane. Even though it was worth fewer points than the other tracks, I went for it. I was growing my multipliers naturally and earning killer power-ups like it was my job. For the next three minutes, Rock Band Blitz took full control, and I had a great time.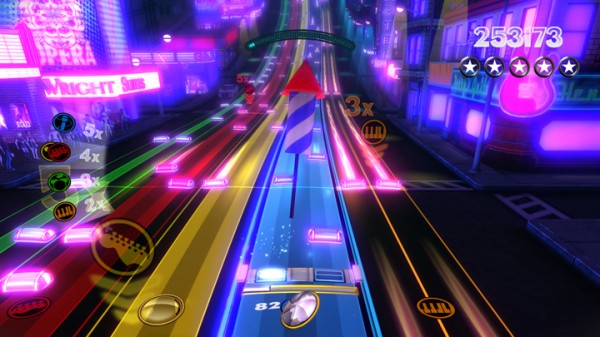 Rock Band Blitz takes the elements that make Rock Band fun and mixes them with zany, fast-paced arcade action; I can't wait to get more time with it. Rock Band Blitz will launch this summer on Xbox LIVE Arcade with more than 20 songs. It will be compatible with all the Rock Band DLC (RB1, RB2, and Music Store downloads).