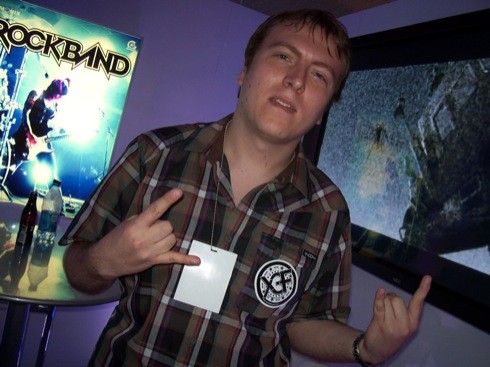 With Rock Band 3 ready to ship for the upcoming holiday season, the game series' lead designer Dan Teasdale has made up his mind on what to do next. That next thing will not involve Rock Band or the company he worked with the games for, Harmonix.
In the latest entry in his blog, Teasdale has stated that he will be leaving Harmonix for Comic Jumper and 'Splosion Man developer Twisted Pixel in order to have a more hands-on experience with his next game. It was something he was unable to do with huge projects like Rock Band.
"I want to be able to help drive the vision and direction of a game, but at the same time be hands on and physically implement and iterate on the low level of making games in a more substantial way than time affords me when working as a lead on multi-hundred person titles," he wrote.
Teasdale then stated that when he arrives at Twisted Pixel he will be working on a "ridiculously cool new project" with a "close knit superteam".
"Tomorrow, I hop on a plane and fly down to Austin, TX, where I'll get ready to start work at Twisted Pixel on a ridiculously cool new project," he continued. "It's the holy grail of game design positions – I'll get to contribute and help drive the direction of a well funded and supported new title with a close knit superteam, while at the same time being hands on and able to directly impact all aspects of the game."
Comic Jumper will be releasing by the end of the summer on Xbox Live for Twisted Pixel, while Rock Band 3 will hit towards the end of this year for the Xbox 360, PlayStation 3, Nintendo Wii.