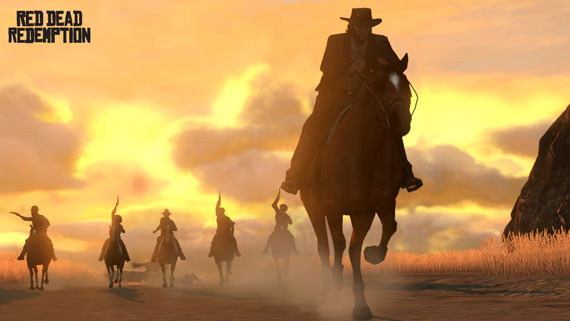 Fans of Red Dead Redemption will be glad to know that Rockstar have announced their continued support for the game in the form of four new DLC packs heading to Xbox Live and Playstation Network over the next few months, following the most recent "Outlaws to the End" co-op pack. Expect an abundence of new characters, weapons and active map locations to be added over the coming months.
Legends and Killers, released first, will be here by the end of August, priced $9.99, or 800 MS points. Included is nine new multiplayer map locations, eight new multiplayer characters (including some from Red Dead Revolver). and a new projectile weapon, The Tomahawk, which will support single player and multiplayer.
Others named were the Liars and Cheats pack, Free Roam Pack and Undead Nightmare Pack. Each will add new content, characters, enviroments, weapons and more, including a new single player mode to look forward to in which John Marston will be defending himself against ghouls and zombies. Oo-er.
Among all these will be new achievements and trophies to look forward to. The only pack with a rough date confirmed is the first to be released next month, but keep watching this space for more details as and when they are announced.
[Joystiq]