On Thursday, February 19th, hundreds of Street Fighter fans, gamers, and passers-by found their way to the packed courtyard in front of Universal City Walk's GameStop store in Los Angeles, CA to witness and take part in the company's inaugural "Rumble on the Walk" Street Fighter IV tournament, the first of thousands to be held at stores across the country.
In addition to a 64-competitior tournament played on eight Xbox 360 consoles, the final rounds being displayed on a two-story high big-screen display for all to see, the event also included a raffle for multiple prizes — headbands, autographed copies of SFIV, and an Xbox 360 console — a costume contest, a "Best Street Fighter Move" competition, and a martial arts demonstration.
Almost as soon as the event began, the tournament bracket was filled to capacity, as was a list of 20 alternates, just in case any of the first-stringers suffered from strained thumb syndrome or fell unconscious at the sight of their opponent's street fighting ferocity. Both groups were lined up behind security gates and could be seen chomping at the bit like ancient gladiators or modern day UFC fighters.
I spoke with the group at the front of the line, including Player #1, the first registrant, "Big Dre Dre." He told me that claiming those spots was "a mixture of being early and being on top of this s***." Unfortunately for him, being the first in line only meant that he got to play first…against a friend occupying slot #2. "They play in order. That sucks." Dre would much rather have used his "Ken Bizzle" skills to KO unknown opponents.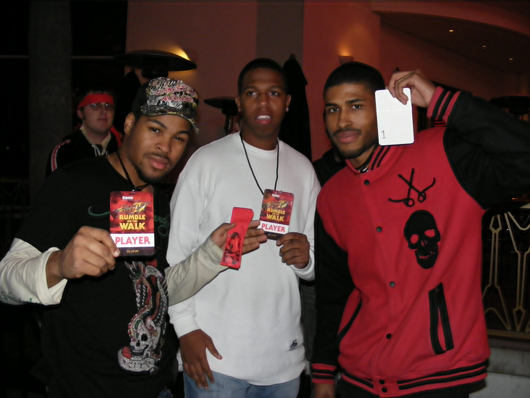 The first three entrants into the tournament, including quarter-finalist "Big Dre Dre"
Once the tournament got underway, things moved rather quickly, grinding down to the top eight street fighters in what felt like no time. In the quarter finals, two of the four matches — Dre's crushing Ryu-Ken defeat included — saw players who were down two rounds to none come back with three straight KOs, advancing them to the semis. At this point, matches played out on the big screen, where every super and ultra combo prompted "ohs" and "oohs" from the diverse crowd — even babies looked on wide-eyed.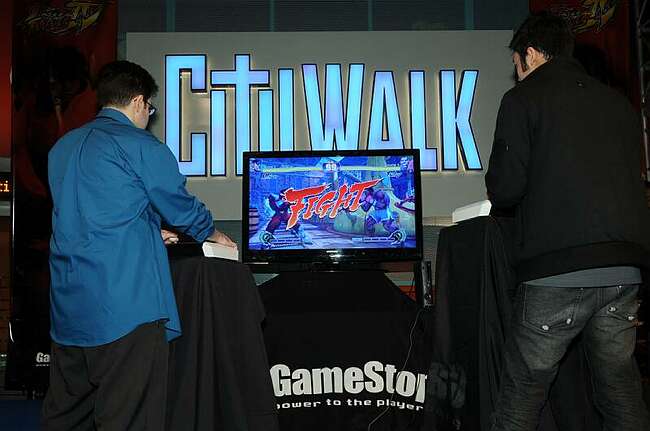 Sanchez vs. Gutierrez: "Round 1, FIGHT!"
The final round was a best-of-seven match between Alex Sanchez and Ryan Gutierrez, better known as M. Bison and Balrog. Whereas earlier contests were exhilarating and suspenseful, this championship bout looked like a mismatch, as Gutierrez, or Gootecks, as he called himself, won easily in four straight rounds. This performance earned Gootecks a seed in the Evo 2009 Street Fighter IV Championship Tournament in San Francisco later this year, as well as a one-on-one match with Evo founder and Special Advisor to SFIV Seth Killian immediately following his victory.
Here's the final round of that epic confrontation:
Gootecks shows Seth Killian that he's the new kid on the block
Fans thoroughly enjoyed the tournament, but it wasn't the only attraction of the evening. Four enthusiastic cosplayers were chosen from the crowd to compete in a Street Fighter franchise costume contest, where winners were determined by crowd applause. To no one's surprise, a scantily clad Cammy won easily.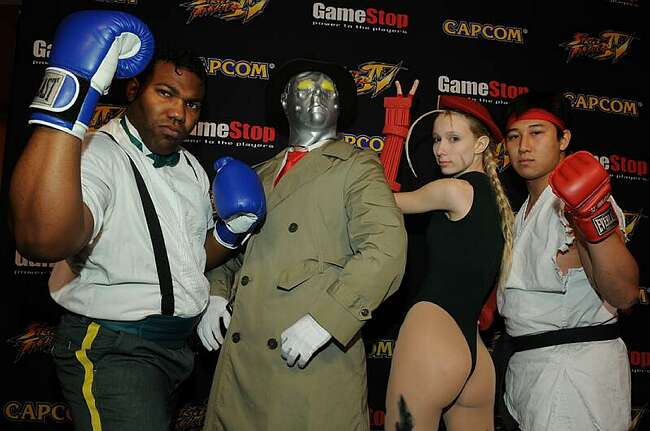 Dudley, Q, Cammy, and Ryu pose for the camera
In the "Best Street Fighter Move" competition, yours truly lost in not-so-grand fashion to the main tournament's runner up, who delivered a very vocal Shin Shoryuken to an imaginary opponent on stage.
Here's the winning move:
Mr. Sanchez caters to the fans with his Ryu impression
…and my losing "Fei Long" impression: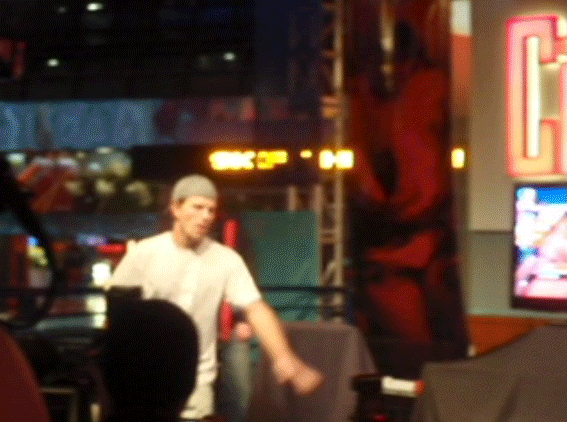 I know it's not exactly a Fei Long kick, but I had to choose a character, and he was the closest I could think of
Far more impressive than our fanboy antics, however, was the live Capoiera demonstration that took place in front of the stage about halfway through the event. A group of performers sparred with one another, performed acrobatic kicks and flips, and tumbled across City Walk like gymnasts doing floor exercises. It was enough to make me want Tekken's Eddie Gordo to join Capcom's Street Fighter IV roster.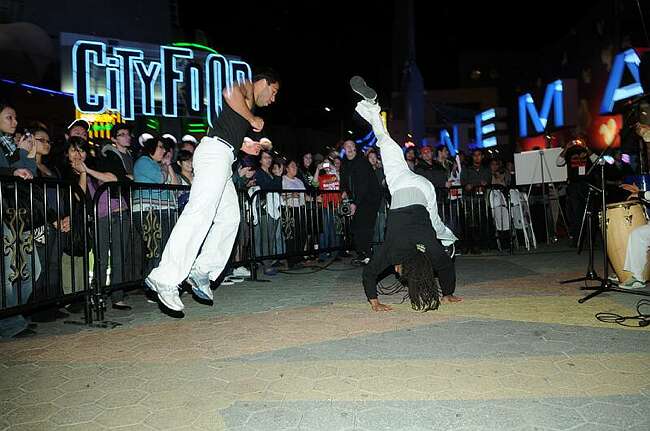 Capoeira at the Rumble on the Walk
GameStop's inaugural Street Fighter IV Tournament was truly enjoyable for all involved, from the old-school fans of the franchise, to the new, competitive players, to the random shoppers of City Walk who found the ever-more-mainstream gamer culture interesting enough to stop and watch. The manager of the City Walk GameStop store was especially pleased, saying that the event really helped out with regular foot traffic and general patronage, as well as obviously bolstering Street Fighter IV sales on both consoles — especially for the Collector's Edition. He also said that Capcom was very helpful, providing plenty of merchandise and support for the event. In all, it was a great success.
In classic Street Fighter fashion, to everyone in attendance, "YOU WIN!"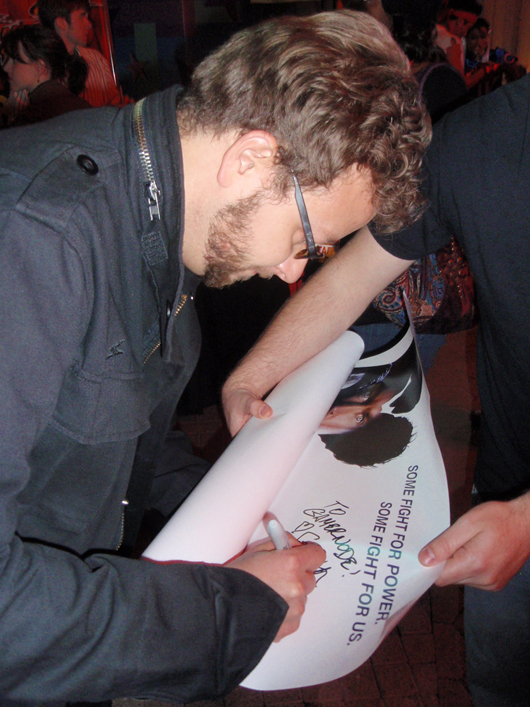 "To GamerNode! <3 Seth Killian"