I'm not quite sure what to make of Rush Bros.
Granted, the idea of a rhythm platformer is interesting, with obstacles and background elements moving to the beat of the musical accompaniment. Watching platforms bounce and move to the rhythm of the track is really cool; I find that the pulses make each level more interesting. Best of all, personal music can be imported seamlessly into the game, letting me try to grab a top time to the funky tones of Daft Punk's "Get Lucky" or the thrashing metal of Dethklok's "The Galaxy."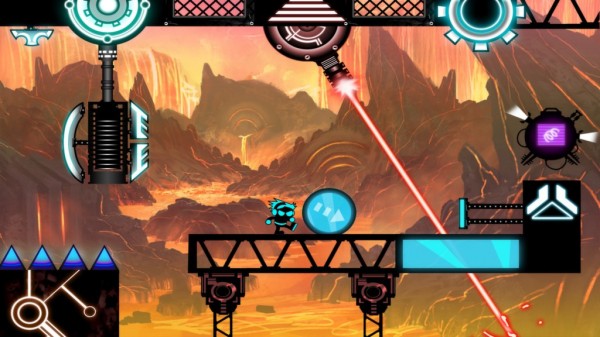 However, that's about all Rush Bros is: single and multi-player platforming to the beat of my own drum. I don't know why these two DJ brothers are putting themselves through hell like this, as there's no background information. It's simply 47 stages, with either original music or my imports, and it's my job to get through the obstacles while dealing with the added rhythm movements.
The idea of Rush Bros is beautiful in theory, but after a while it just becomes mundane. Outside of the rhythm bit the game is typical platformer fare: pits to jump across, spikes to avoid, walls to scale with a cool wall jump feature, etc. Controlling the character is nigh impossible on a keyboard, but the game does deliver a brief disclaimer about how controller is much better every time I turned it on, which I appreciated. I'd have been a lot angrier about Rush Bros if it didn't tell me keyboard control would be bogus.
Trying to outrace other players online is the real thrill of Rush Bros, but again after a while I began to wonder why I even cared. Rush Bros offers no reason to continue playing after experiencing the 47 levels, except for testing different levels with my personal music library to see what fits.
I had fun with Rush Bros, no doubt about it, but the fun didn't last as long as I'd hoped. That's a shame, because "rhythm platformer" is a unique genre with a lot of potential. That potential comes through in Rush Bros, but without lasting appeal it's not the force this new genre needs. No need to rush to this game; play it when you need something to kill time.