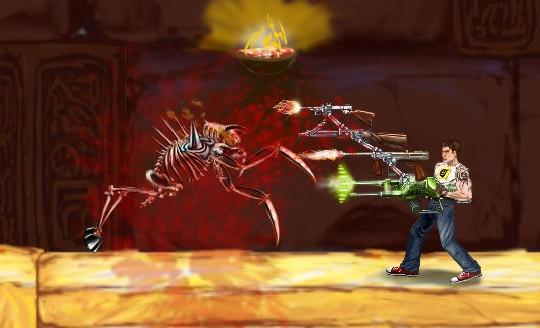 Serious Sam is back and looking a little different in Mommy's Best Games-developed Serious Sam Double D. It's the first in the Serious Sam Indie Series, and features side-scrolling shooter gameplay, as opposed to the classic first-person design of past Serious Sam entries.
The game has a feature that lets you stack guns on guns, making even more powerful firearms. According to founder and lead designer Nathan Fouts, there are 80,640 different combinations players will be able to stack. The video below takes an in-depth look at the new mechanic.
Other new mechanics that have been mentioned are "Corpse-Piling technology" and "Porta Pad technology."
The game will also feature 18 campaign levels and 12 challenge levels. Alongside new enemies, classic Serious Sam enemies will return.
Serious Sam Double D is set for release on August 30 for $7.99 USD. It will be available for download on the PC through Steam and Get Games.
[flash width="540" height="324"]http:/www.viddler.com/simple/83c7f326/[/flash]