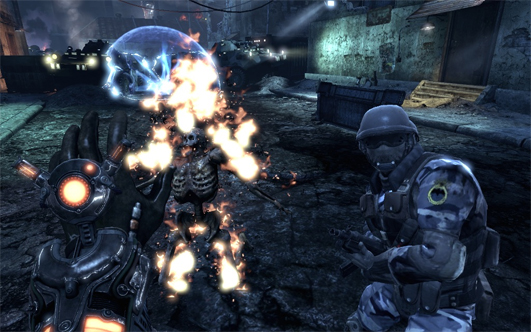 Singularity is an upcoming first-person shooter from Activision and Raven Software, featuring an original sci-fi storyline and interesting, atypical time-manipulating gameplay mechanics. From what I could see in the E3 demonstration, Singularity is somewhat reminiscent of another great fps, BioShock. That's never a bad thing.
Singularity centers around a small island off the Russian coastline called Katorga-12. During the Stalin era, this island was a place of arms experimentation and the site of a massive elemental catastrophe. It was quarantined for more than half a century, and forgotten. In 2010, however, the U.S. military has discovered the long-hidden island and has sent in a unit on a reconnaissance mission.
The player is a member of that unit, and must explore this temporally unstable place that hangs in constant flux between 1950 and 2010. What begins as a simple observation quickly turns into a quest to unshroud the island's history and an attempt to right the wrongs of the past.
Players will be able to toy with time in a number of ways. The time manipulation device, or TMD, is able to shift objects (even entire buildings!) and enemies back and forth between their conditions in 1950 and 2010, which is useful in puzzle-solving as well as combat (zapping a 1950s guard and watching him turn to bone looks very satisfying). Echo events set the mood and advance the plot by occasionally presenting the player with scenes from before the meltdown, played in constant loops via holographic imagery in the present day, and time waves periodically sweep the island, placing everything in an in-between existence called the null-zone. Elements from both time periods coexist and interact in this space, and upgrades to the TMD allow players to reach through from 2010 to grab null-zone objects.
Like BioShock, the game appears to focus heavily on storytelling, and puts players in a situation where they must uncover the secrets of a bygone era in a mysterious setting that doesn't obey the laws of reality as they know it. Combining first-person shooting with the almost magical TMD in the protagonist's off-hand will potentially provide a gameplay balance similar to those in games such as BioShock and Half-Life 2, and the various time mechanics promise a unique experience overall.
Singularity will arrive late in 2009 on the PC, PlayStation 3, and Xbox 360. GamerNode will have more coverage of the game in the future, and I'll spare you the corny time-related closer.