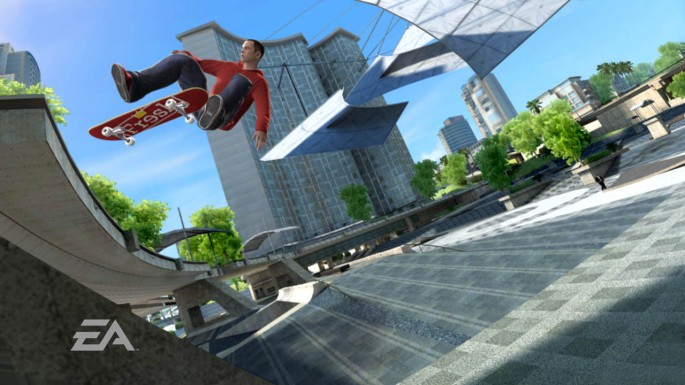 EA Black Box busted into the action sports genre two-and-a-half years ago with Skate, and its realistic, addictive take on skateboarding has made it a staple in the genre ever since. Skate 3 is fast approaching, and it aims to take the skateboarding throne over Activision's Tony Hawk series and the recently announced Shaun White Skateboarding from Ubisoft.
I got a chance to play Skate 3 at PAX East 2010, and from that hands-on time I can say that it definitely has plenty of the same addictive gameplay that has solidified the series as a contender in the skateboarding genre. At the show, I free-skated through a skate park located in a suburban area of Port Caverton, the city in which the game takes place.
After reintroducing myself to the controls, I was quickly doing flips and grabs off of ramps, grinding road medians, and jumping track hurdles. Though the Skate games' controls have never been easy to learn, once a player does, it really instills a feeling of realistic skating. Skate 3 has kept that tradition.
Another part of the game I was able to try was the returning Thrasher's Hall of Meat mode. The mode has come back in all its glory, featuring hills, slopes, cliffs, and high awnings to wipe your character out off of for some awesome yet painful falls and drops. This will once again be the game mode that fans will love to play with a bunch of friends, with plenty of "ohhhhh" and "oooooooh" in the background.
While the demo I played didn't feature any of Skate 3's new modes, the game definitely seems to be on the right track toward keeping the series among the top titles in the action sports genre. It maintains those high levels of fun and realism that previous installments have featured in in abundance. Look for the demo to hit the PlayStation Network and Xbox Live on April 15, with the main game hitting store shelves May 11.