Kart racers are probably the most common type of game you can find. It seems that every IP eventually gets its very own kart racing game. From the Looney Tunes to Final Fantasy to M&Ms, you can't go far without running into one of these games. Although there's been a ridiculous amount of them released since the debut of Super Mario Kart in 1992, there's only been a handful of gems worth playing and SkyDrift is close to being one of those few that shine.
The tracks that the races take place on look great. There's only a few of them and every once in a while the game will reverse the tracks to throw in some diversity. What they do with what they have is admirable. It does get boring playing the same tracks over and over again, but there's no denying that the tracks are well done. During the last lap the tracks even start falling apart. As far as I can tell you can't be deterred this way, but it does make for a more exciting race. Throughout the race, players will come across arrows that direct you onto the right path. These arrows help you understand when you need to take sharp turns to avoid crashing. If you crash, you're respawned back into the race almost instantly and unless you're neck and neck with another racer, you rarely lose your place. This makes the game a whole lot easier and it's frankly a little disappointing because unlike Mario Kart games, you don't feel challenged.
Crashing into obstacles isn't the only way to destroy your plane. There are also several power-ups in the game that make it all the more intense. Every power-up is implemented incredibly well and none of them make you wish you had picked up another. Machine guns, rockets, and shockwaves are all used to take down your opponents while shields and repairs protect or heal your aircraft. My favorite power-ups of all are the mines. Strategically speeding up to get ahead of your adversary and then dropping a mine right behind you is incredibly satisfying. If you've got a need for speed, each power-up can be burned into your boost meter for later use.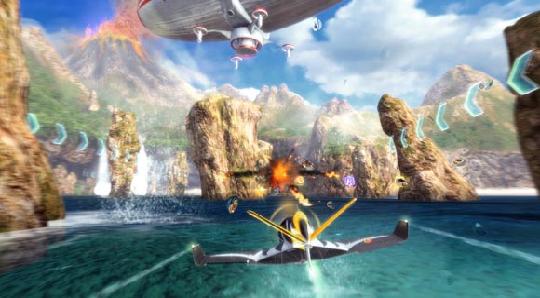 Along with the power-ups come three different race modes. Three is definitely not enough to keep you entertained for long. Combine the limited number of tracks and you've got a bit of a problem. Although it isn't a lot, one of the modes brings something new to the table and is actually fun. Survivor mode has you race one of the tracks, but instead of finishing a certain amount of laps first, there's a timer. Once the timer runs down, the racer in last place gets eliminated. This continues until one player remains. This mode would be to die for if the game had local multiplayer.
Campaign mode is made up of several stages and each stage has several different race scenarios. You can complete any of these scenarios in any order and you're given a number of races you need to complete to move on. This becomes incredibly tedious when the stages start repeating themselves and it ends up feeling like you're just going through the motions. Even though it has a lot of different races to choose from, it would have been nice to be able to customize a race the way you want it instead of looking for the race of your choice. Joining campaign mode, the multiplayer is where the game becomes more fun because the races are almost always a photo finish when you're actually playing with real people. That is, when you can find people to play with. The lack of local multiplayer is disappointing and it kind of makes you wonder what the developer was thinking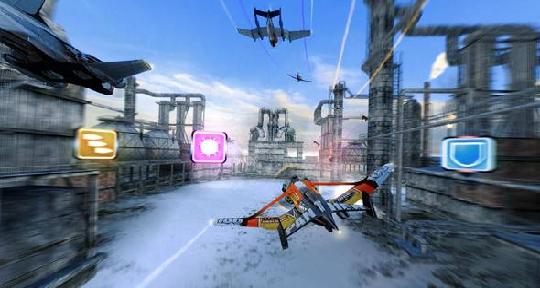 SkyDrift takes kart racing to the skies. It has everything a good kart racer needs. The well implemented power-ups, great looking tracks, and solid racing action makes this an especially fun one too. Unfortunately, this game is seriously lacking in content. Everything it does have is fantastic, but the missing content stands out considerably. The added exclusion of local multiplayer turns this game from being great to just okay. The game may be fun, but for $14.99 USD, I wouldn't say it's exactly worth it. As fun as the game is, it's hard for me to recommend it to anyone other than fans of the genre, especially at that price.