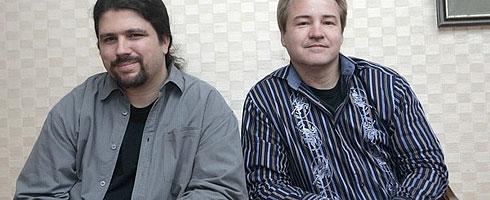 According to Jason West, president of the newly formed Respawn Entertainment, he believes that "the sky's the limit" for the new studio.
West announced this in a recent interview with IndustryGamers that also included buddy and Respawn GM Vince Zampella and EA Partners boss David DeMartini.
"Really, at this point the sky's the limit," said West. "All doors are open. We're going to get the team together and start there, and then we'll start kicking around ideas about where we want to go. And we do want to talk to our fanbase and include those guys early as well, and see what they're interested in us making."
The duo discussed how their partnership with EA came about, which according to Zampella came after he and West were fired from Activision. Not before.
"Well, we were fired," stated Zampella. "Then, the next day our phone and e-mail were flooded with requests to talk with us…So we talked to numerous publishers, and there were offers on the table, and what it came down to was picking the deal that allowed us to have the freedom and control that we felt we need going forward."
West continued by stating that the duo and their new studio needed the freedom to do what they wanted with their IPs. Something they didn't get over at Activision.
"What it came down to was we wanted someone who would respect our independence and our culture, let us own the IP and put us in a position to maximize our success, so we can have a great team and control the brands and franchises that we want to make," he said.
The two were then asked if they were in contact with former colleagues at Infinity Ward in an attempt to recruit people to Respawn, hinting at the recent departures from the studio. But West responded that they haven't yet begun to recruit.
"We're really just kicking off the recruitment process today and we'll announce the makeup of the team at the appropriate time," he stated.
Martini then stressed how EA will not have history repeat itself and that the massive publisher will not do to Respawn what Activision did to Infinity Ward.
"What the guys expressed to us, as you would imagine coming out of a horrific situation like that, is they wanted control of their destiny and control for the destiny of the team," said Martini. "I think people forget that when you're in charge of something you have a lot of people's lives in your hands, and their future is kind of tied into your future.
"The guys wanted to have the ability to control IP, to move down a path independently, to form great ideas with the new team, and do what they've always done, which is to create great entertainment experiences. When we heard that story, that's something that's really compelling and we're really excited about, without any specific IP."