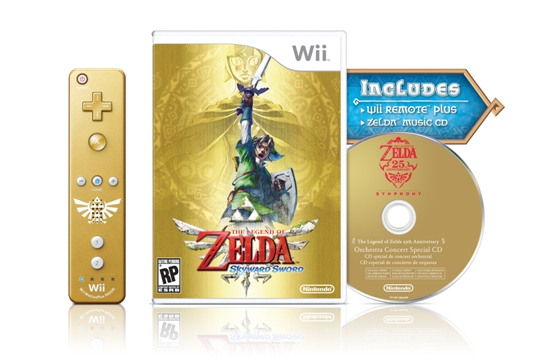 Nintendo has revealed today the details behind a special limited edition bundle for the company's biggest release this holiday season, The Legend of Zelda: Skyward Sword.
The limited edition will include the Skyward Sword game itself along with a special golden Wiimote that can only be acquired via the bundle. It will also come with a special CD that features the music of Zelda selected specifically for the upcoming Legend of Zelda 25th Anniversary Symphony Concerts that will take place this October.
The CD won't be exclusive to the bundle however, as every regular copy of Skyward Sword that comes from the game's initial production line will also sport the disc.
Regarding the price, the limited edition bundle will cost gamers $69.99, while the regular game, both with and without the CD, will run the typical $49.99 rate.
The Legend of Zelda: Skyward Sword will release on November 20 exclusively for the Nintendo Wii.