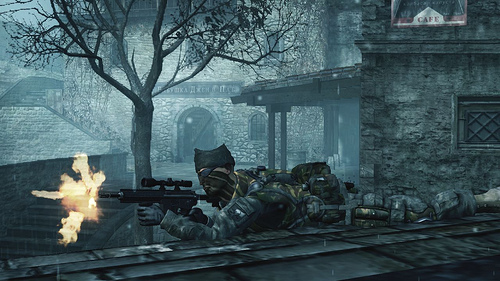 Attention faithful SOCOM players! Playstation Blog reports that a new DLC expansion for SOCOM: Confrontation is set to release soon on PS3. Titled Cold Front, the DLC pack brings players to the snowy area of Eastern Europe with two new maps and three remakes from past SOCOM games.
The expansion also brings new gear, weather conditions, and a new game mode called Arms Race. Arms Race has teams fighting over missle launchers placed around the map. The special forces team must destroy them, while the mercenaries have to activate them. The new gear includes winter camo and a thermal scope that allows you to scope out enemies in the harsh conditions or at night.
A full list of features is as follows:
* New Russian / Eastern European Area of Operation
* Snow setting complete with snow effects, new snow gear and camo for both the Special Forces and Mercenaries, and thermal vision
* New ARMS RUN gameplay mode
* 5 New Maps: Uprising, Entrapment, Blizzard, Night Stalker, Vigilance
* All new mercenaries characters with new looks and new VO.
* New Special Forces squad, the Russian Spetsnaz
* Gun turrets emplacements
* New music
* All new character specialization/progression system
* Allows players to pick a primary and secondary specialization and unlock new equipment exclusive to those specializations
* New weapons, including: 3 new weapons, 6 enhanced versions of weapons available as part of the new weapons specialization system, 2 new weapon attachments (including the thermal scope), 5 enhanced versions of weapon attachments also available as part of the new weapons specialization system.
* 2 new grenade launcher ammo types (flash and smoke)
* New Trophies
The pack will cost $14.99, but if you buy within the first 24 hours of release, the DLC will only set you back $9.99. No release date has been given yet.