Nintendo's plucky plumber has had a vice-grip on the console go-kart racer market. Crash Bandicoot, the animals from Madagascar, and even the Nicktoons have tried to usurp Mario from this throne, only to be completely outclassed.
Finally, he may have met his match, and fittingly, it's from an all-too-familiar archnemesis.
Sonic the Hedgehog brings his friends from the house of Sega into the racer genre in Sonic & Sega All-Stars Racing. At first glance, it seems like Sega just took the Mario Kart format and re-painted it. The formula for both games is the same: brightly-colored and highly-detailed tracks playing host to zany arcade-style kart-racing action, with items flying and cars zooming by. As I played, though, I found the play to be much deeper than Mario Kart Wii. The controls are tight and responsive, whether turning normally or drifting. I found myself crashing into walls far less here than I do in Mario Kart. The power boost after drifting is still there, but it is not nearly as easily abused as it is in Nintendo's racer (see: NO SNAKING HERE, JERKS!). Most impressively, the track design is a bit more thought-out that the other game; there's no 8-lap Baby Park here, each track is long and full of twists, turns, and the occasional power boost.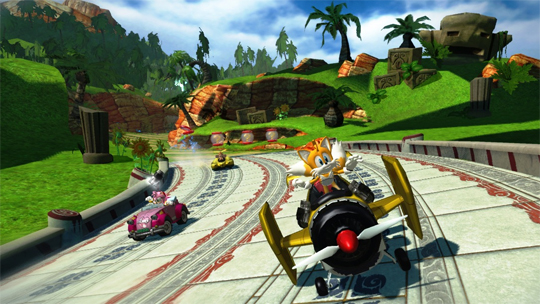 What truly sets Sonic & Sega All-Stars Racing apart, though, is the history packed into it. Sega has thrown in a Super Smash Brothers Brawl-level amount of its past ventures into this racer, from the drivers to the tracks to even the Achievement/Trophy names (After Burner! Altered Beast! Fighters Megamix!). The driving roster is a who's-who of Sega's lore, even if some of them actually make you ask "Who?" Sonic, Tails, and Knuckles are household names, but seeing Akira and Jacky from Virtua Fighter, Ulala from Space Channel 5, and even B.D. Joe from Sega's other vehicluar-mayhem classic, Crazy Taxi, can all be part of the racing madness. I'll admit, I had to look up who Opa-Opa was (Fantasy Zone), and I saw Robo and Mobo (Bonanza Bros.) and ran for Wikipedia, but the fact that Sega was willing to thrust them back to the spotlight is a welcome change, as many companies tend to forget their roots when given a chance like this. (Also, I should point out that Curien Mansion is another name for The House of the Dead, but the series is banned in some parts of the world, so the name was changed.) Of course, some Sega favorites were left out (Vectorman, Ristar, that guy from Sword of Vermilion), but hopefully that will be changed with DLC. The tracks will also cause some reminiscing, though sadly not as much as the roster will. I would have preferred some more variety in the track worlds, because while I'm sure Billy Hatcher was a great game, I'm not sure it deserves as many tracks as it got. One would have been enough.
The item pick-ups are basically the same as in Mario Kart games, but are obviously different objects. The green boxing glove is the same as the green shell, the missile is the same as the red shell, and the land mine is the same as the banana peel. The main addition to the items is the All-Star, which gives the player a driver-specific power: Sonic turns into Super Sonic, Eggman's car turns into a flying battle tank, etc. What I love most about the items is that none are so overpowered that they make the game seem unfair (see: that friggin' Blue Shell), but all of the items can change the race in a heartbeat, adding a bit of unpredictability to the game.
The soundtrack is a great mix of new and remixed tracks that injects life into every race. The character voices are clean and clear, and the sound effects are loud and plentiful, just as once would expect. The only problem with the audio is that damned track announcer. Don't get me wrong, the track announcer was a smart inclusion, something that this game has and other racers don't. The only problem is his script: it's so freakin' corny it just becomes annoying. If I'm in first place, while it's nice to hear which character has the All-Star so I can be prepared, I don't need to hear every time the 6th place driver gets hit with a boxing glove. Also, if I heard "Amigo is leading the race like a conga line!" one more time, I probably would have muted the TV, which is a shame considering the rest of the sound offering is excellent. If you don't mind inane announcing, by all means keep him around, but if you want to be able to hear the music without listening to some of the dumbest lines available, go to the Options menu POST-HASTE.
Sonic & Sega All-Stars Racing offers a great (if not better) alternative to the all-too-familiar Mario Kart formula. Perhaps this sudden challenge to Nintendo's throne will cause them to innovate with their next game, but until then, racing fans will have plenty of fun with Sega's entry. If you're a Sega fan, this is history in a game disc, and you'll find yourself oohing and ahhing at all of the reminders from your childhood. Finally, if you're looking for something different to play, this offers a great variation on the kart-racing genre, and it's a game that shouldn't be missed.