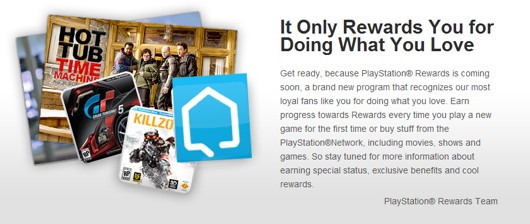 Sony has unveiled a new rewards system that will once again reignite the flames of brand loyalty. PlayStation Rewards will be a way for Sony to say thank you to those who are loyal to the PlayStation 3 and PSP.
The system is free to join and designed to recognize players who play PlayStation games, purchase content on the PlayStation Network via the PlayStation Store or PlayStation Home, download movies and TV shows, and take PlayStation surveys. It will have three different membership tiers: Select, Pro, and Legendary. Players will be able to earn better rewards and progress from tier to tier as they go on.
Some of the rewards will include exclusive PSN avatars displaying member status, dynamic themes and PlayStation Home content, and member-only sweepstakes. The first of these sweepstakes will be an all expenses paid trip to the 2011 Consumer Electronics Show.
PlayStation Rewards will have its initial launch tomorrow exclusively for PlayStation Plus and Gamer Advisory Panel members. There is no word yet on when it will be available to all other PlayStation 3 owners.