It's been two years since we've last seen Sam Fisher dealing out some stealth justice on terrorists, drug runners, militants, and a corrupt Third Echelon. With his former organization of espionage obliterated, I worried just a little that we'd seen the last of Mr. Fisher. Luckily, Ubisoft Toronto hasn't had enough of the badass agent with three-eyed multi-vision goggles. At E3 2012 the studio dropped Splinter Cell Blacklist on surprised and gleeful fans both at the Microsoft media briefing and on the show floor. I got to see both versions of the new entrant's gameplay demo, and I've got all the information on the who, what, when, why, and how.
Set after the events of Splinter Cell Conviction, Blacklist is a world without the Third Echelon. Effectively shut down by the President of the United States following its coup by director Tom Reed, it has now been replaced by the newly formed Fourth Echelon, headed by Sam Fisher himself. Answering to only the president, Sam and the Fourth Echelon are on a mission to stop the Blacklist, a countdown of escalating terrorist attacks on US interests. The root of the attacks comes from 12 countries that have grown sick and tired of the US' heavy military presence around the globe. With millions of lives at stake, the Fourth Echelon can't afford failure.
Moving about in Sam's shoes will feel familiar to anyone who has played Conviction, with its bigger emphasis on action over stealth. There will still be sneaking around, silent kills, gadgets, and calls/whistles for distractions and luring, but players will find a lot more satisfaction from killing enemies in rapid succession than crouch-walking behind them and knocking them out. A large part of this is thanks to the return of the brutally efficient execution mechanic. Players will still be able to mark targets – in the demo it was up to three — then perform either one-shot kills or brutal melee-gun combinations if Sam is close enough. Like in Conviction though, players have to perform a hand-to-hand kill in order for the execution meter to fill and be ready for use.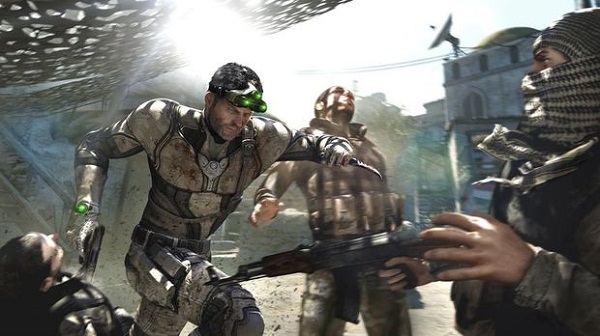 Another action-heavy mechanic being introduced to Blacklist that complements executions is "killing in motion." Similar to what Ubisoft is doing for Connor in Assassin's Creed III, Sam will have the ability to perform melee kills on the move and continue his momentum to find cover or execute more foes. One other technique similar to ACIII will be Sam's ability to scale cliff faces in addition to his traditional wall-climbing, giving more options for infiltrating strongholds and facilities. Other elements included with regards to traversal are the ability to break down wooden doors with a firm running shove and destructible cover.
As the leader of the Fourth Echelon, Sam now has access to assets he hasn't been afforded before. The demos I witnessed showed two such instances. In the first, Sam was informed that a missile was ready to launch at his command upon a machine gun mounted on a pickup truck, acting as a major obstacle in the player's path. The second sees the player taking over the top-down perspective of another Fourth Echelon member who acted as air support, clearing out waves of terrorists who tried ambushing Sam as he attempted to escape and extract himself from the finished mission. It all gives the player more options for action and makes for some pretty exciting moments.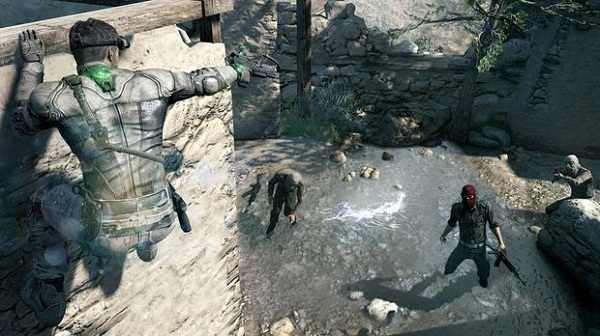 Of course, no Splinter Cell game is fun without its high-tech gadgets. Sam is packing old classics and some new arrivals in his arsenal. Some can be used whenever, like x-ray radar via the multi-vision goggles that can see through walls and highlight enemies in a white glow, while others are situational, like the traditional snake cam. Another good situational gadget was an electric crossbow bolt, which combined with a puddle of water and two guards checking on a friend to create an effective double takedown.
One final element to Blacklist that also makes a return from Conviction is interrogations. During certain important moments in the plot, Sam will pin down a person of interest to get necessary information out of them. If they don't want to spill their beans, players will be able to have Sam twist a knife, jack them with the butt of a gun, and perform other environmental means of torture. There doesn't seem to be any chance of failure, like Conviction, but they once again create a more visceral cinematic experience.
In what seems to be a combination of new and old, with some shared mechanics from a fellow Ubisoft franchise, Sam's return to the spotlight is something that fans should definitely get a kick out of. We'll find out if the Fourth Echelon can match up to everything the Third Echelon gave us before it when Splinter Cell Blacklist arrives for the PC, PlayStation 3, and Xbox 360 in 2013.