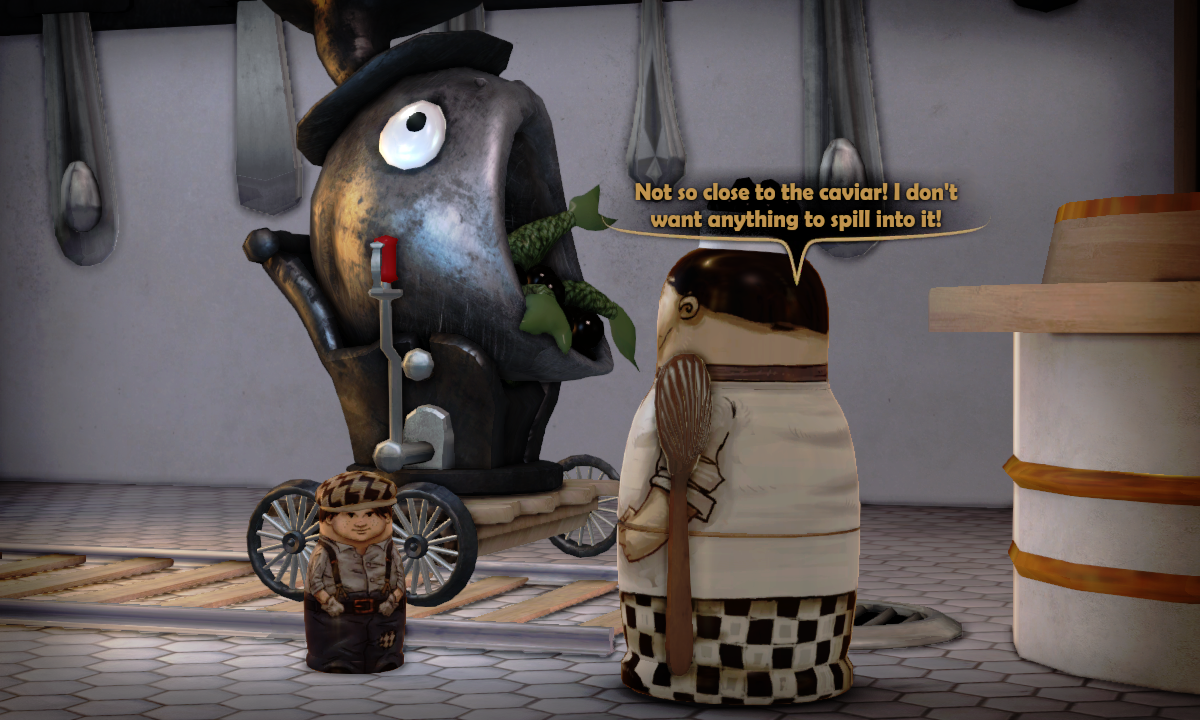 A game starring Russian stacking dolls sounds like a bizarre, absurd, and downright ludicrous idea at first. Old, outdated toys that haven't been in mainstream demand for nearly a century would not be anywhere near most people's top 50 ideas for the basis of a downloadable video game. But luckily the people over at Double Fine Productions don't think like you or me. And from what was shown of Stacking at THQ's Gamers Week, the game is going to be far from the aforementioned assumptions.
In Stacking, you control the smallest Russian stacking doll ever created and are on a quest to rescue your family. You will stack into bigger and bigger dolls in order to solve puzzles, complete gameplay challenges, and just flat-out screw with the other dolls.
Messing with the other dolls is actually encouraged, as the game features tasks that can be completed by performing these misdeeds, titled Hijinks, on other characters. One such example shown, which was a personal favorite of Tim Schafer's, was to walk up to and slap other dolls in the face with a white glove. There are several more like these, including some rather unpleasant actions like farting and belching. Completing these Hijinks tasks will give the player rewards, but just what those will be wasn't specified.
The hands-off demonstration started in the game's train station, which will act as its main hub. The station is bustling with other dolls and will allow the player to travel from location to location. The station did not stick around for long however, as Schafer and Project Lead Lee Petty got their little doll a train ticket to the game's passenger ship level.
The transition gave us a look at the game's cutscenes, which are quite nicely stylized to fit the time when Russian stacking dolls were at their peak. As the game is set from the late Victorian Era to the silent film era, each cinematic is portrayed in a grainy, sepia-tone film effect without any dialogue. Characters will shake around, with the scene then cutting to a screen of what was said in text. It's a fitting take, as seeing and/or hearing the dolls voiced over in any form would have been ridiculous and tacky.
The point of the passenger ship level is to upset the four big-time adventurer guests on board in order to incite a mutiny on the captain. So with this knowledge Schafer went about finding ways to tick off the guests. He waddled over to a pelican doll, which was able to fly into one of the adventurers' rooms. There, Schafer was able to jump inside a bear doll that was placed on display in the room. He then proceeded to the ship's safari-style theme park at the front of the ship and used the bear to scare everyone away, forcing it to close. With the fun safari closed, one of the adventurers' that was enjoying the games became irate and made straight for the captain.
Before moving on to the next adventurer, Schafer took over an illusionist doll, which lead to the reveal of matching sets. Certain dolls are actually part of a full set that when combined together will give the player a bonus cinematic. Schafer waddled around, scouring the ship for the illusionist's family. Every once in a while, he would stop to use its ability to turn other dolls plaid. After finding the entire family, including its dog, a bonus scene was shown depicting the family giving an illusion performance on a stage.
Schafer went on to cause more chaos by taking over a grumpy doll and shouting at two other dolls holding a zebra prop to move it in the way of a bicycle path. He then jacked the bicyclist dolls and tore through the prop, angering yet another adventurer.
Finally, Schafer was able to sneak his way into the kitchen and, after finding a doll strong enough to push it, dumped the ship's entire stock of caviar. The demonstration of this task exercised how some challenges in the game will need to be completed by dolls of a certain size. This heinous act infuriated the third adventurer, bringing another complainer to the captain's door and making the leader of the ship quite nervous. It was here where Schafer and Petty unfortunately ended their presentation.
With game design that fits the central theme of Russian stacking dolls perfectly, Stacking is looking to be a much better title than anyone may have originally thought. What you may assume is nothing but a gimmick actually turns into an amusing and vastly original take on puzzle-solving games. It will be interesting to see just what kinds of fun chaos can be caused in the full version of the game when it reaches Xbox Live on February 9th.