My experience playing through Steambot Chronicles: Battle Tournament was a strange love/hate incident. What started out in excitement and intrigue with the dialogue options and customization possibilities for my Trotmobile was quickly dampened by the utterly boring missions and fetch quests I was forced to do.
Upon arrival in Orion City, your character (a guy or gal depending on your choice) has aspirations of winning the Orion City Trotmobile gladiator tournament. The only problem is that you're a nobody, and the only way for you to make a name for yourself and earn some money is by taking jobs at the Employment Agency.
And thus starts the overly tedious and convoluted mission process that you have to follow every time you start a mission: Go to the Employment Agency, speak to the really cute receptionist, and pick one of the available jobs, then go speak with the person you're doing the job for, head outside the town to either pick up the item or speak to someone, return to town and speak again with the person who you're doing the job for, and then finally return to the Employment Agency for payment. And that's about how every single mission will play out.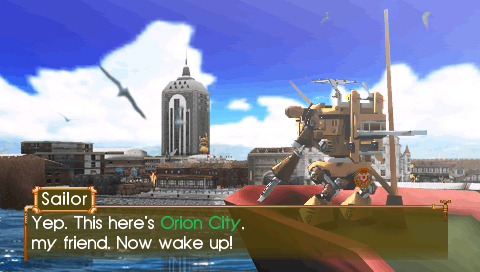 What makes things worse and even more predictable is that enemies respawn in the exact same spots in the areas outside of Orion City, so after a couple trips there and back you can have enemy locations memorized. It's a yawn fest with an occasional bump in the road.
Despite these flaws, using your hard-earned money to customize your Trot is fun and satisfying. The arms, legs, body, head, and back attachments can all be modified with a good array of options, and you can change the colors and add emblems, as well. You can even give it a name to make your Trot truly your own.
Once you earn enough fame points from finishing missions, you can enter into the coliseum and fight other Trots. These battles are more unpredictable, fun, and exciting because they give you a sense of achievement when you win.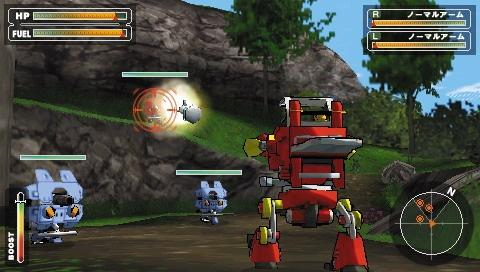 Speaking with NPCs in the game presents various dialogue choices that are also fun, even if they have little to no effect on the outcome of the story or its direction. You can be pleasant, kind and caring, or an aggressive, obnoxious snot of a person to those around you with no worries about "light side" or "dark side" morality choices. However you wish to respond to someone is up to you and your current mood.
Steambot Chronicles: Battle Tournament does feature some nice but limited multiplayer options. Ad-hoc competitive multiplayer is available to those who also own a copy of Steambot Chronicles on UMD, and the "game sharing" option lets you play with up to three other people using standard Trotmobiles who don't have the UMD. Not too shabby, assuming you can find anyone to play with.
My opinions of Steambot Chronicles waivered for much of the time I spent playing, but in the end I enjoyed the game. It's worth checking out in your spare time, especially considering the drought the PSP is currently going through.