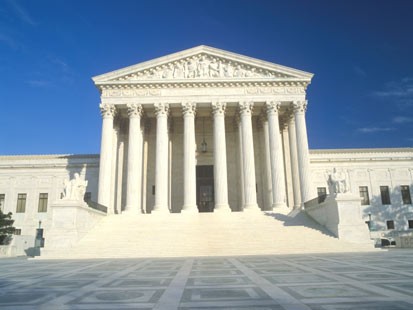 The Supreme Court has now released the opening arguments of Schwarzenegger v. EMA, the violent games sales to minors case, in audio format on its official website.
Available in MP3, Windows Media, and Real Audio 10 formats, the audio of the case's beginnings can now be either downloaded or streamed straight from site. The same page also has a PDF download link for the opening argument's 72-page transcript.
Beginning with these opening arguments that took place on November 2, Scwharzenegger v. EMA has the capability of altering how games are sold in retailers, First Amendments rights, and how all venues of entertainment are regulated in the United States.
For a briefing on how the opening arguments went and the ESA's reaction to how the case hearing went, be sure to check out GamerNode's coverage through the links below the source.
UPDATE: Anyone looking to listen in on the stream can do so below.
[Supreme Court of the United States]
[Supreme Court hears opening arguments in violent video game case]
[ESA confident after Supreme Court hearing]