Telltale Games is not comfortable just doing the same old thing. The studio created a winning formula with The Walking Dead, and is making small, but significant, changes with each successive franchise adapted to that formula. The Wolf Among Us added the element of time, forcing players to prioritize their options when making choices, with the risk of missing out on certain events. Now, with Tales from the Borderlands, players will actually direct the story as they go.
Tales from the Borderlands is appropriately named. The premise behind the property is that two characters, Rhys and Fiona, are recounting events to a third party. With each small tale — alternating between the two protagonists — the player has the opportunity to choose the general shape of several mini-plots. In Telltale's behind-closed-doors E3 demo, I saw Rhys recount a story that ended with him performing a ridiculous and obviously untrue feat, only to be interrupted in by Fiona calling him out on his gross embellishment. She then proceeded to pick up the story in one of four ways, as selected by the player. This new way of allowing the user to craft a personal journey through an adventure game looks like it will be a fun, refreshing take on this third iteration of the Telltale formula.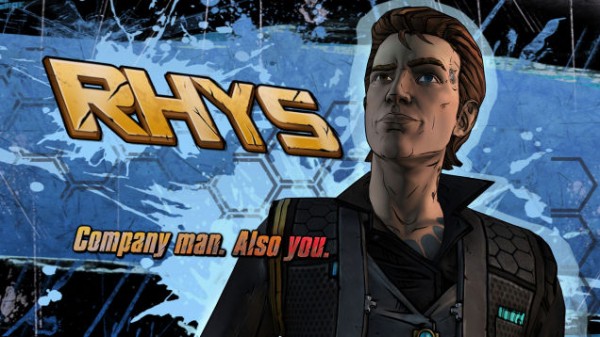 Keeping with the Borderlands ethos, TftB promises to be a comedic work while still telling a story with some gravity. In the case of the premiere episode, it's about an office worker and his buddies at the Hyperion corporation attempting to screw over their new boss by making a shady and lucrative deal down on the Wild-West-inspired planet Pandora. The look and feel will be familiar to fans of previous Telltale or Borderlands games, with a heavily outlined, lightly shaded, colorful animated style, and an angular and futuristic graphical user interface that borrows stylistically from Gearbox Software's titles.
A useful and interesting mechanical component of Tales from the Borderlands is Rhys's cyber eye, which can scan people and objects in the environment to glean new information about the situation. The example demonstrated at E3 was pulling important data out of a computer that was out of reach and unreadable. This also served as an opportunity to illustrate the game's hacking mechanic, which will show itself from time to time, depending on the object with which Rhys interacts. And being a sort of nerdy, tech-oriented pencil pusher, Rhys bumbles his way through combat, something that seems to play a large role in TftB.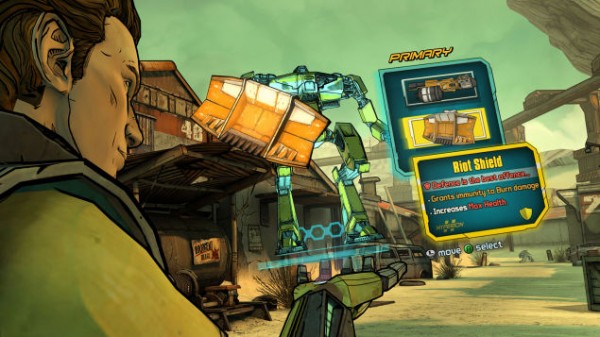 Pandora is a dangerous place, taking cues from the western and post-apocalyptic genres, so the characters are likely to encounter plenty of the violent type of trouble on the ground there. Luckily, Rhys has access (at least in the first episode) to drone mechs, controlled remotely from his Hyperion equivalent of an iPad, and some quick-time events. During the demonstration, I saw this snarky, non-battle-hardened weakling (Fiona looks like the tough one of the two) command his mech to lock onto multiple targets, execute fierce melee attacks, launch missiles, and counter incoming fire. Rhys mostly dodged out of the way and occasionally hit somebody when he opportunistically ended up standing in front of them with a surprised look on his face.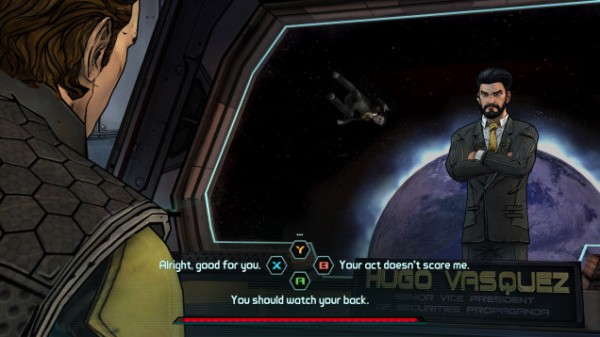 Another Borderlands staple that remains integral to the experience is loot. And now loot is not only a means to gather resources, but also ties into the game's decision-monitoring infrastructure. Choices and consequences are now considered within all of a player's actions, including opting to loot or not loot specific boxes, bodies, or other containers. Not ever choice shows a "X will remember that" message, but the game will always be watching.
Tales from the Borderlands looks very promising, and not simply because it's another Telltale adventure. The developers behind this game are genuinely making an effort to give players something new and interesting, from its comedic tone, to its multiple-character perspective, to its player-directed narrative, to its combat and exploration mechanics, the game looks fresh while still being decidedly Telltale. These are all good things, and we should be enjoying them later this year.