Capcom never fails to deliver to its fighting faithful. After last year's excellent Street Fighter IV showed us the future of the 2-D fighter, the Wii now gets a taste of what Capcom does so well with Tatsunoko VS. Capcom: Ultimate All-Stars. Does this new crossover do Capcom justice, or is it destined to be just another Wii game?
Don't worry, fight fans, this one will not disappoint.
Tatsunoko VS. Capcom is solid all around, from the fast-paced fighting to the cast of characters. I found myself being constantly reminded of the classic VS games of my childhood while brawling it out. It does suffer from some minor shortcomings, but there's nothing here that will keep fighting fans from being satisfied.
The matches are 2-on-2, and players have access to over 20 characters total from the Tatsunoko and Capcom properties; the Capcom side ranges from Ryu and Chun-Li (Street Fighter) to Frank West (Dead Rising) and Viewtiful Joe, and the Tatsunoko side has characters like Ken the Eagle (G-Force), Tekkaman, and Karas. One thing that Tatsunoko VS. Capcom does so well is its characters' moves. The motions may be the same, but each character has a specific and unique moveset, making mastering a character that much harder. In a game like Street Fighter IV, there are groups of characters who share very similar, if not exact copies of their movesets. Here, each character controls differently, allowing for a great deal of balance between everyone who plays competitively.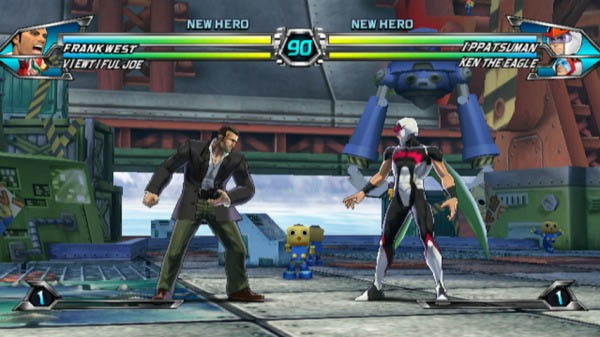 Don't know the Tatsunoko franchises? Well, that's one of the aforementioned problems. Marvel VS. Capcom, it can be argued, attributed a lot of its success to the fact that both sides have a gigantic fan base willing to play a great game. While Capcom certainly hasn't lost any fans, Tatsunoko doesn't exactly hold as much interest as Marvel. Not only that, but Capcom pulled some obscure characters from its archives too, which doesn't help. All I think of when I see Saki from Quiz Nanairo Dreams! is a character space that could have been filled by Wesker from Resident Evil, Dante from Devil May Cry, or another Street Fighter or Mega Man character (Metal Man, anyone?). Of course, just because the characters are obscure doesn't mean that they're not fun to play as. Tekkaman Blade and Karas are two of my favorite choices, with Yatterman-1 not far behind.
Each stage is a setting ripped right out of the two companies' wares, from Yatterman's Workshop to the Willamette Parkview Mall. The stages are excellently drawn and well-rendered, with just as much hustle and bustle in the background as there is in the fight. The previously mentioned Willamette Mall shows zombies pushing shopping carts around in the background, while the Servbots run around aimlessly on Tron Bonne's ship from Mega Man Legends. The soundtrack to each stage is great — certainly not as hard on the ears than the jazz sounds of Marvel vs Capcom 2 — and the sound effects are classic Capcom, from the hits to the death cries. My only issue here is that all but 2 of the characters speak fluent Japanese, which is something I can't do. I can't imagine that putting in a English/Japanese switch like they had for Street Fighter IV would have been all that hard to program. The Japanese sounds cool and all, I would just prefer to be able to understand them.
The best feature in the game, however, is the online capability. I've fought over 10 matches without a single bit of lag, which is very impressive. Ranks and titles can be achieved, as in Street Fighter IV, for each win you earn online. Most importantly, the competition is great, but be prepared to get your butt kicked just as much as you kick butt, as the online community is usually the best place to find tough opponents.
Tatsunoko VS Capcom: Ultimate All-Stars is a fresh take on an old formula that doesn't disappoint one bit. Once you get over the lack of familiarity with the Tatsunoko crew and the inablility to understand anything any of the characters say (save Frank West and Alex), you've got nothing but a solid, balanced fighter that fighting aficionados will play for hours on end and new players will enjoy just as much. If you have ever enjoyed any type of one-on-one fighter, make sure you play Tatsunoko VS Capcom.