Zenimax Online Studios, a team comprised of MMO veterans, has been hard at work on The Elder Scrolls Online for the past five years. Operating in close contact with Bethesda Game Studios, the simple idea behind their game is to "play in Tamriel with friends." Although the team's behind-closed-doors E3 2012 demonstration did not show off the multiplayer Skyrim that gamers would surely go crazy for, it did make a case for a fantasy massively multiplayer online role-playing game with potential appeal to MMO enthusiasts and non-enthusiasts alike.
The immediate advantage that The Elder Scrolls Online has over other MMORPGs is the wealth of Elder Scrolls lore that acts as its foundation. Those familiar with the franchise know that Bethesda's games have always held multitudes of tomes, scrolls, and other stories that served to flesh out a deep, rich history for the culturally diverse land of Tamriel.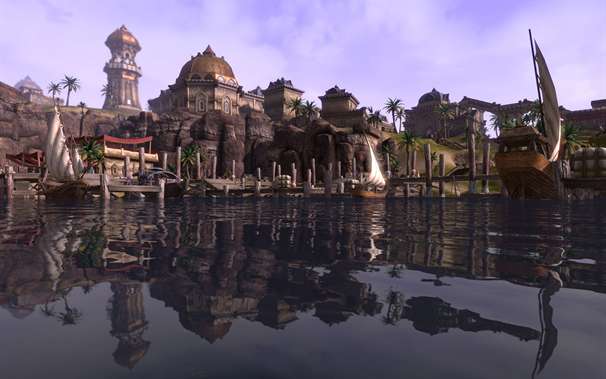 The Elder Scrolls Online takes place during Tamriel's second era, 1000 years before The Elder Scrolls IV: Skyrim, and just before the rise of Emperor Tiber Septim. This Tamriel is under the power of the necromantic Daedric Prince Molag Bal, and is divided into three warring factions surrounding the central Imperial territory. Where each adventure begins – as part of the Ebonheart Pact, the Daggerfall Covenant, or the Aldmeri Dominion – is dependent upon a character's race. No matter what the player's selection is, though, Molag Bal has stolen the character's soul, providing the initial impetus to stop him, save the world, and right this wrong.
The Elder Scrolls Online seems to have been designed in an effort to simplify the MMO experience. Toolbars do not rule the flow of combat, and were absent from the E3 demonstration. Managing a slew of hotkeyed actions and their respective cooldown times is replaced by simple health, magicka, and stamina banks from which player actions are fed. Combat resembles a rudimentary action-RPG more than an MMO, and Zenimax is keen to emphasize the game's real-time blocking mechanics (perhaps as a parallel to Guild Wars 2's dodging). Proficient use of this more direct combat system – fighting with "finesse" – is rewarded with extra treasure.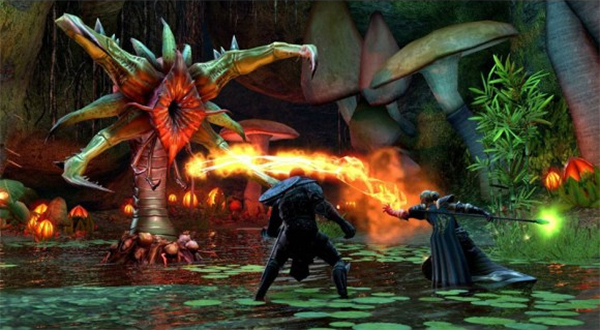 Zenimax also aims to make The Elder Scrolls Online a more cooperative experience than many MMORPGs, assuring full rewards to all parties involved in co-op play, and using difficult public dungeons to inspire players to aid others in need of help. Still, instanced dungeons, raids, realm-versus-realm play (we were shown a battle with 150 characters on screen), and much of the standard MMO fare keep things familiar and don't take ambitious leaps toward the concept of playing a typical single-player Elder Scrolls RPG in a multiplayer setting.
There will be no quest hubs The Elder Scrolls Online, letting players explore their whimsical version of Tamriel more naturally to discover quest sources that will pop up on the map as they draw near. Within quests, players will be offered a degree of choice and branching paths that will have effects in the future, such as giving them the opportunity to speak with particular characters later in the game, but while choice may be one of Zenimax's focuses with TESO, I can't say that it approaches the compelling design of Bethesda's single-player offerings.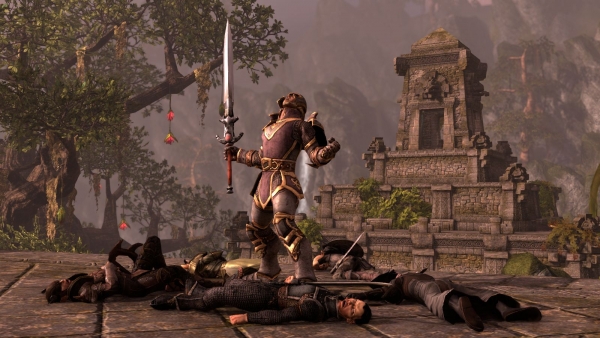 So while it doesn't appear to rewrite the book on MMORPG design, The Elder Scrolls Online looks to exchange some of the depth of prior games in the franchise for the ability to take to Tamriel and all its lore in a more casual, multiplayer setting. Will TESO's philosophy and feature set be enough to stand out in such a crowded genre? Hardcore MMO players might say no at this stage of development, but perhaps the Elder Scrolls franchise is stronger than one may think.
I, for one, am remaining optimistic, and look forward to the-game-that-everyone-wanted more closely resembling the-game-that-everyone-still-wants in the months to come.