Developer Snowblind Studios, best known for the PlayStation 2 action RPG Baldur's Gate: Dark Alliance, has not released a major console game since 2006. This drought ends after five years with Lord of the Rings: War in the North. In another hack-and-slash RPG, Snowblind Studios aims to expand on The Lord of the Rings mythology and deliver an RPG as engaging as the PlayStation 2 classic. Five years may have been a little too much time to take off.
Lord of the Rings: War in the North takes the somewhat dangerous route of introducing three new characters to The Lord of the Rings canon in a story concurrent with the books' events: an important battle in the North of Middle Earth against the forces of Lieutenant Agandaur, a minion of Sauron. The narrative isn't very strong and the new characters are worse. Each is wildly underdeveloped and immediately forgettable. J.R.R. Tolkien's engaging storytelling is nowhere to be found.
Instead, the game sticks to genre conventions: players choose either the ranger, the warrior, or the spellcaster, fight their way through the game using a partially gratifying and occasionally clunky light/heavy/ranged/special combat system, and level up via  skill trees that add exclusive abilities to each character's repertoire. As ever before in Snowblind's work, the differences between the characters and their special attacks makes replay an appealing prospect.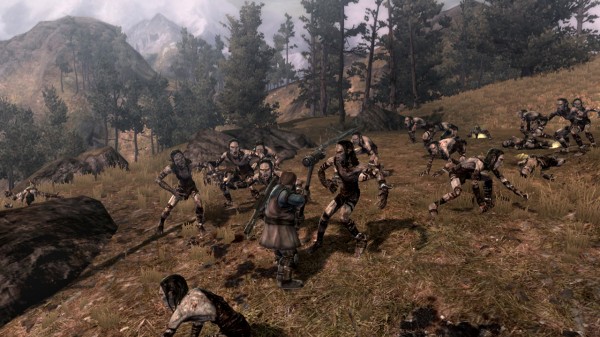 Solo players suffer from the inability to manage party members' skills like the chosen protagonist, however, and teammate AI is hit or miss: occasional helpfulness gives way to careless kamikaze battle tactics. Cooperative play, on the other hand, is one of War in the North's greatest strengths. The entire game can be played co-op via split-screen or online. Three friends can drop-in and drop-out as they journey through the campaign together.
The routine of battle still grows tedious, though. The same basic enemies resurface in great numbers, forcing players to dispatch wave after wave of orcs in a bloody, limb-severing ordeal. While the basic combat, leveling system, and bountiful harvests of loot are enjoyable, this type of play can turn to monotony. Even boss fights are repeated.
Lord of the Rings: War in the North is a decent hack-and-slash RPG, and with a dearth of this type of game on the market, fans of the genre may want to pick it up. It does little to avoid the pitfalls of that aging genre, though, and operates at a reined-in third-person perspective. This only highlights the mediocre action when compared to other games bearing a superficially similar look. Don't expect God of War, and make sure you have friends to play with in the northern reaches of Middle Earth.