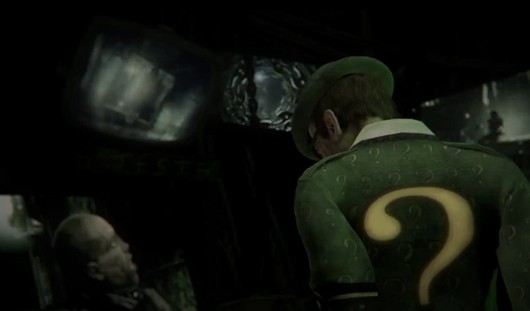 The latest trailer released today for Batman: Arkham City showcases Batman's most mentally challenging foe, The Riddler a.k.a. Edward Nigma, taunting the Dark Knight and daring him to solve his challenges once again. However this time around, Mr. Nigma is doing so with a more sinister twist.
Reminiscent of the Saw film series' main antagonist Jigsaw, it appears that Riddler's challenges all lead to a series of civilians that have been captured by the evil genius. Batman must solve Riddler's challenges to discover the location of the civilians and save them before they meet a gruesome end by means of deadly contraptions concocted by Nigma.
This will be a big improvement from the challenges found in Arkham Asylum, where the player simply had to find question marks in obscure locations via riddles as hints. Now actual platforming and fighting gameplay looks to be thrown into the mix to add versatility to these side quests.
Batman: Arkham City is set for an October 18 release in North America for the Xbox 360, PlayStation 3, and PC.
To see the new Riddler trailer in full, just scroll down to find it below.
[flash width="540" height="337"]http:/www.youtube.com/v/SZJjsw2_4KQ?version=3&hl=en_US&rel=0&hd=1[/flash]