I don't know what The Unfinished Swan is about. While playing the game, I rarely knew exactly what the world around me looked like. What I do know, however, is that at no point during a hands-on demo at E3 2012 was I having as much fun with a game as I did with this one.
I know what I could perceive in The Unfinished Swan: an endless, featureless canvas of pure-white nothingness. My one action, aside from moving and jumping, was throwing an unlimited number of black paint blobs at the apparently empty world. Where those drops landed, the structure of the world was revealed, one splash at a time.
The primary goal in the early parts of the game is to chase after the titular swan, who is rarely in sight, but presumably exists somewhere at the end of the journey. Along the way, those blobs of paint and a few sporadic swan-prints are used to find the path forward – a path that could be up stairs, over boxes, around corners, across a rock bridge, or via any other route imaginable. I don't know; I couldn't see it anyway.
At times I used as many paint blobs as patience allowed, trying to add contrast to everything around me, while at others, I used as few as reasonably possible, disempowering my play and moving slowly through an invisible world. In this way, The Unfinished Swan seems to be less of a game than a world in which a player makes up games to play while making progress toward its end.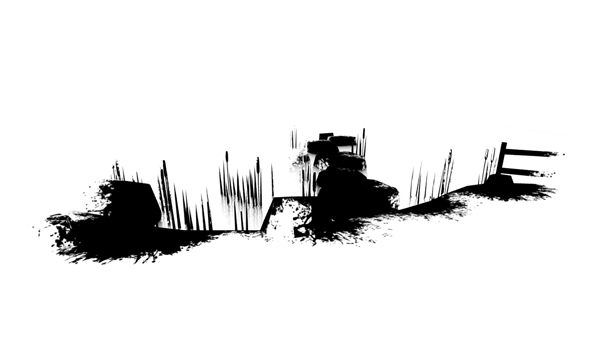 A later level was much different. The ground, buildings, statues, and other objects were all visible – an instantly disappointing prospect that became less so through exploration. I no longer threw paint, but water, which was useful in dark corridors, at least until it evaporated – something the paint did not do. It also served a more important function: to feed the creeping plants revealed in this new area that did not institute a policy of sensory deprivation. Splashing water on floors and walls made the plant grow along any path I desired, and was useful for climbing to previously inaccessible areas. I wondered what other functions the plants might serve later in the game.
So I don't know what The Unfinished Swan is, but I do know this: If Grand Theft Auto is a sandbox, then The Unfinished Swan is a paint set, a canvas, a water gun, and a Chia Pet. I look forward to its release on the PlayStation Network later this year.