Clementine has endured terrible hardships in the years since the dead began to rise in The Walking Dead. With her surrogate father and role model, Lee, now gone, those hardships are only getting worse in the first episode of the game's second season, All That Remains, where I'm reunited with the child I'd fought so hard to protect in Season 1. After spending approximately two hours in the young girl's shoes, I found Season 2's beginning to provide a more memorable experience than its predecessor's premiere, even if this season's current narrative lacks as compelling a sense of purpose.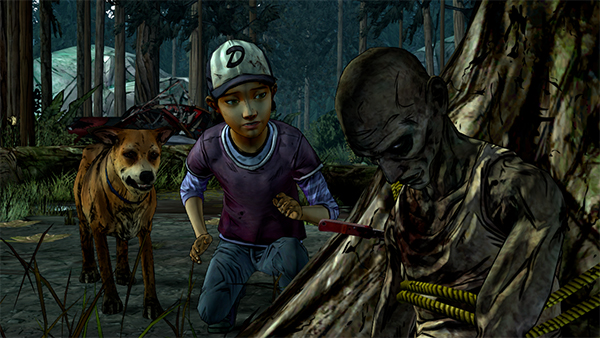 In All That Remains, the focus of Clementine's story is made clear early on: survival. Though she's reunited with Christa and Omid when I first catch up with her, the remnants of Season 1's group don't stay together very long. After a few high-intensity twist and turns, I'm left alone in the wilderness playing as a slightly older Clem who's innocence has been lost thanks to this cruel new world.
Having only myself to rely on, I have to do whatever's necessary as Clem every day so that I can see the next sunrise. This includes both desperate and questionable acts such as scavenging or stealing supplies, blackmailing others, taking care of my own wounds, or using the fact that I'm a child as a means of emotional manipulation. I can opt out of some of these actions, while others I can rationalize and explain through dialogue afterward.
It allows me to be a survivor while at the same time deciding whether or not this Lee-less Clem will become one that is kind, cold-hearted, or some mixture of the two. This role isn't as honorable or powerful as the "protect the adorable and innocent little girl" one I took on as Lee, but it offers a darker look at an already bleak world and harnesses the potential to build toward something greater as the season continues.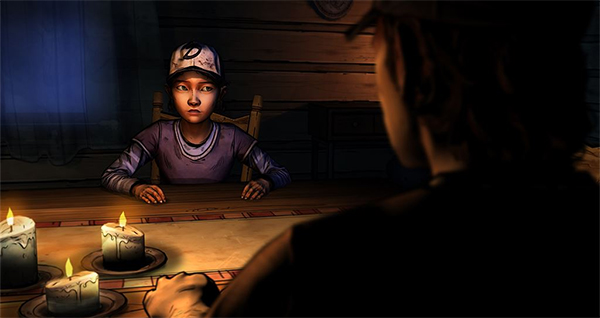 Reinforcing the notion that this world has in fact become a harsher one, All That Remains presents scenes that shock me to my core in terms of both graphic imagery and emotion. In some moments, I feel a deep sadness playing as this girl who's already lost so much, while in others I cringe in horror and act with greater reluctance than in previous Walking Dead entries. It's during these scenes that Telltale proves, once again, its efficiency in evoking deep emotion.
An improved use of the game's camera — more frequent, effective use of pans and carefully placed angles — helps set the tone of what's to come in the ensuing action or dialogue, taking true advantage of the surrounding scenery. The angles in particular, especially during certain shots of character dialogue, provide a far better sense of both the drama and emotion of the moment.
If there was anything from The Walking Dead: Season 1 and 400 Days that disengaged me from the emotional rush of the tales they told, it was their technical glitches and hiccups. Though Telltale has improved upon them significantly, they aren't completely gone. It's no longer as bad as scenes stalling, but one or two moments during low-tension scenes make me double-take at something in the background. I never feel like I'm being cheated out of the experience of the game, but it does briefly yank me from my immersion.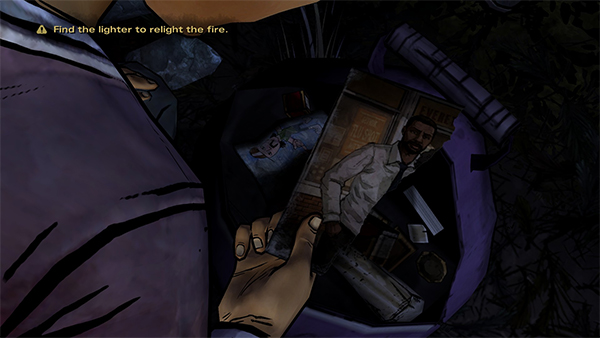 Meanwhile, in an attempt to deepen the level of immersion for all, Telltale has implemented a new aesthetic style to its dialogue options and quick-time prompts. Pulling from the studio's other property, The Wolf Among Us, its dirtier aesthetic now feels more in place than the standard, bland method used before.
I'm not entirely sure where this season is heading or what kind of horrible dilemmas are going to fall on Clementine's shoulders in future episodes, but The Walking Dead's second season premiere gives me the opportunity to decide just how this beloved character has evolved since the end of Season 1. It's a great look into how a world this messed up can force a young child to grow up far faster than she should ever have to. Moving forward, I hope that Telltale is able to use this as a foundation toward a greater purpose and not as the season's single driving force.