It's safe to say that videogame critics love to see novelty in the games they play on a day-to-day basis, so it comes as no surprise that the physics-based, 2D action-platformer Trine was met with open arms well before it was ever released. The question is whether the near-flawless visual spectacle and unique conceptual design presented by Frozenbyte serve to exemplify great gameplay or simply glam up an average experience. Or could it be a little of both?
The game follows the fantasy adventure of a wizard, a thief, and a knight, whose concurrent quests lead them to be physically bound to one another by a magical artifact known as the Trine. In order to be freed from this unified existence, they must reunite three ancient artifacts — a task that, coincidentally, will also rid the kingdom of the evil force that has spilled across the land and polluted it with droves of undead (and bats… f'n bats). It's a storybook come to life, complete with colorful language and dark fairy tale narration between levels.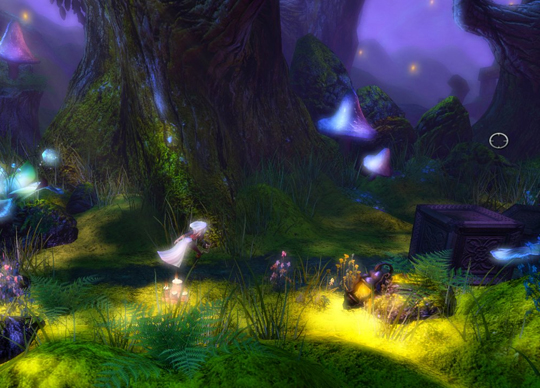 From the moment Trine graces the player's monitor, there is no denying its visual splendor. The three-dimensional fore- and backgrounds are so finely crafted that stopping to admire the multi-layered environments in the middle of play would not be at all inexcusable. From the soft glow and light smoke of the torches that dot dungeon walls, to pillars of light streaming through lush, waving forest canopies, to iridescent mushroom caps and damp, shining cavern rock formations, everything in Trine has been rendered with great care and attention to detail. The textures applied to trees, rocks, and other surfaces in the game are almost tangible, and special effects such as distortion around heat sources and the red filter that pulses when a character sustains damage draw players further into the game world.
This graphical glory comes at a price, though; combining the slick visuals with a resource-hungry physics engine, Trine and all its beauty can be very demanding of weaker systems, slowing the game to a slideshow unless settings are significantly lowered. In this game, especially, this is an issue because of its impact on gameplay. Unless Trine is running 100% smoothly, controlling the three characters becomes a nightmarish struggle. The loose, physics-engine platforming is already a bit imprecise, so any hiccups quickly transform the game from challenging fun into unenjoyable aggravation.
Conceptually, Trine is brilliant. Each character has unique, upgradeable abilities that will help guide the trio to their final destination, and switching from one skill set to the next with the touch of a button feels very empowering. The game's level design plays off of these abilities, cleverly intertwining a number of solutions to each "puzzle," and only occasionally requiring one specific character to proceed. For example, the same obstacle may be surmounted by using the thief's grappling hook, the wizard's magically conjured boxes, planks, and platforms, or the knight's ability to pick up and place heavy objects.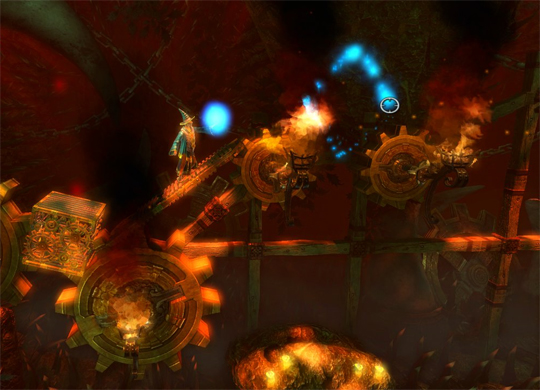 Checkpoints throughout each of the game's 15 levels are very useful for reviving fallen comrades, regaining lost health, or restarting after an untimely demise, but it is disappointing that the game doesn't allow players to save their progress and re-embark on their journey later from one of these markers. Trine forces players to resume their autosaved games only from the beginnings of each level, replaying what has already been done. Controller configurations aren't saved from one session to the next, either, so players who customize their mouse, keyboard, or gamepad will have to do so each time they sit down to play. This can become frustrating after a number of short forays into Trine's kingdom.
The way combat has been injected into the game is crude and unrefined, as well. Although picking off enemies from afar, aiming the thief's bow with the mouse or right analog stick, is well-implemented, and the rudimentary hack-n-slash methodology of the knight works, the virtually endless streams of spawning and respawning skeletons (and f'n bats) at very specific points kills the flow of gameplay through each and every level in the game. A much better option would have been to reduce the number of foes and disperse them somewhat evenly throughout the levels rather than impeding players for long periods of time and detracting from the overall experience. Trine is about traversing a beautiful fantasy kingdom and using interactive physics to manipulate objects and cleverly solve puzzles along the way. It's telekinesis, conjuration, and platforming, not button-mashing.
Trine is a blend of AAA concepts and design, underdeveloped gameplay architecture, and bits and pieces of whatever might fall in between, all presented on a beautiful 2D/3D canvas. Despite it's flaws, it is an enjoyable game, and is definitely worth checking out. For players in no rush to get started, however, waiting for the less expensive console version — or a discount — might not be a bad idea.