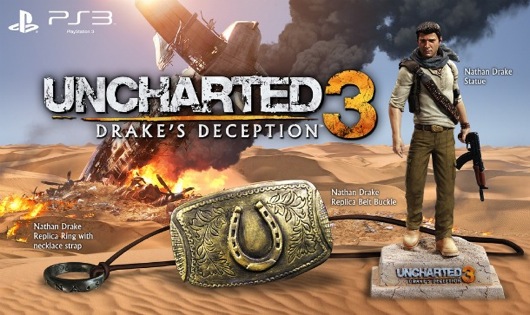 Naughty Dog and Sony have officially given out the details on the collector's edition and various preorder bonuses for Uncharted 3: Drake's Deception, which features a package sure to make potential Nathan Drake cosplayers rejoice.
Running gamers $99.99, the Uncharted 3: Drake's Deception Collector's Edition will include a replica of Drake's belt buckle, a replica of Drake's ring/necklace, a Sideshow Collectibles Nathan Drake statue, and a "Steelbook" game case. The entire bundle will come in a "Travelling Chest" case.
Anyone who is looking to preorder a copy of either the regular or collector's edition of the game will have quite the decision to make, as nearly every major game retailer will be offering a different bonus with the game. Each bonus is multiplayer exclusive.
Here's what you can get from each location:
Best Buy – Regeneration Booster
Speeds up players' health regeneration.
Amazon.com – Carpet Bomb Kickback and Clip Size Mod for Para 9 or G-MAL
The Carpet Bomb allows players to throw three grenades at the same time for extra explosive efficiency as a kickback while the mods will increase the clip size for either the Para 9 or G-MAL.
GameStop – Creepy Crawler Kickback
Gives players the ability via kickback to "turn into a swarm of deadly creatures for a limited time and overwhelm your enemies."
Wal-Mart – Callout mod for AK-47
Allows players to "equip your AK-47 with a laser sight that enables your entire team to see the location of the opponent you are currently targeting."
Other Retailers – Uncharted 3 PSN Avatar & Static Theme for PS3
Self-explanatory.
Uncharted 3: Drake's Deception is set for a November 1 release exclusively on the PlayStation 3.
[IGN]