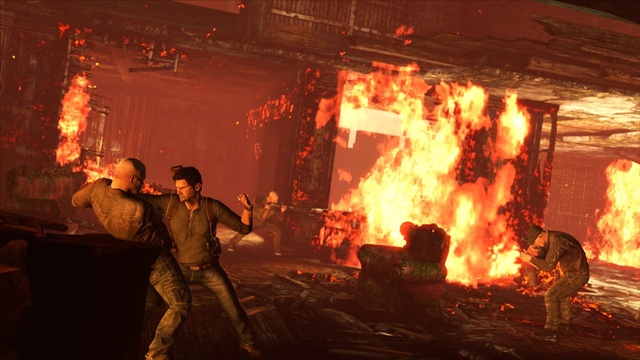 Earlier this week, Naughty Dog showed off gameplay for Uncharted 3: Drake's Deception for the first time on Late Night with Jimmy Fallon. Today, the game's developer has released a video of that exact sequence in addition to seven screenshots of the flaming French chateau level.
The video shows Nathan Drake and Victor "Sully" Sullivan on the trail of T.E. Lawrence, a.k.a. "Lawrence of Arabia", that takes them to this French local. Unfortunately for the duo, they're not the only ones searching for the legendary "Atlantis of the Sands".
An unknown group of antagonists set the place ablaze and Nate and Sully must find a way out before it burns to the ground.
Shown off in the video is some hand-to-hand combat, gunplay, the game's stunning fire and smoke animations, and some cinematic sequences that the series is known for.
Check it out, along with the screenshots, below. Uncharted 3: Drake's Deception is set for a November 1, 2011 release exclusively on the PlayStation 3.
[flash width="540" height="337"]http:/www.viddler.com/simple_on_site/3facdf9e[/flash]