You've got to hand it to NIS — they have a knack for finding and publishing some of the quirkiest games the world has ever seen. That's why they remain one of my favorite publishers. They're not afraid to please niche audiences with strange games with even stranger titles, such as What Did I Do To Deserve This, My Lord?! In this quirky little sideshow of a game, you actually take up the mantle of a pickaxe that once belonged to the God of Destruction. Trippy, right? Overlord Badman needs you to help prevent some meddlng heroes from invading his personal dungeons — you know, killing off minions, using up precious commodities, and being general annoyances. Since you are a pickaxe, your only real calling will be to dig through hard soil, rocks, and various blocks dotting the area of play. In fact, tiny blocks of soil and earth are the only ways you can truly interact with the environment. It may sound quite stifling and inherently stuffy, but you'd be surprised at what you can accomplish simply by assuming the role of an enchanted pickaxe.
Honestly, you won't be doing a whole lot save from flitting the cursor around the screen, pressing a face button, and obliterating blocks. It's deceptively simple, you see, as there is much to learn beyond clearing blocks from the path on screen. Since you're doing so for a purpose, you'll do well to note that you will utilize nutrients, mana, and creatures within the soil and the rocks in order to ward off those pesky RPG heroes who can't get enough of Badman's dungeons. With each block you dig up, you'll find various resources hidden within. If you power through an area that yields any Slimemoss, then you've just stumbled on a basic unit of nutrient that you will utilize throughout the rest of the game.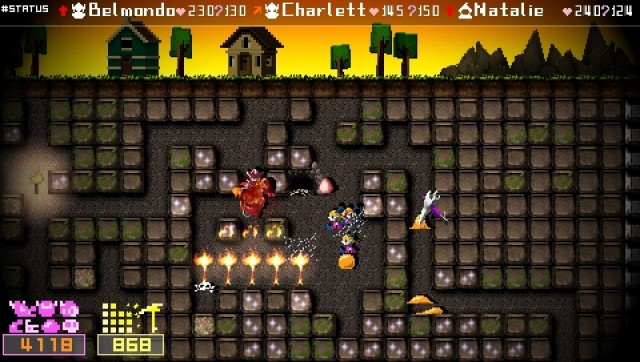 Discovering basic building blocks throughout the rocks and figuring out the proper ways to pair them up will be the key to success. Slimemosses will allow other nutrients to run rampant throughout the dungeon and allow others to multiply and gather in different blocks. When you have enough in one place you'll be able to create a host of bigger, more powerful creatures than the diminutive Slimemosses, like one of my personal favorites, the Omnom. While you can nurture the birth of new creatures via nutrients, you'll do the same for magic with mana that fallen heroes leave in the soil — take that, you meddling fools! Once you happen upon mana hidden within the soil, you'll create a Spirit, which sends magical energy to resound throughout the playing field. In essence, you will be shaping and creating living and breathing ecosystems for monsters to flourish in and to take care of those pesky heroes. It may seem relatively simple as all you're really doing per se is clearing blocks, but as you will see from the insanely long tutorial, there is a great deal of challenge involved.
Each stage of the game in Story mode will have you staving off different annoyances (heroes). You're given only a limited amount of dig power (the number of times you can use the pickaxe) in order to create a self-sustaining food chain and environment to get rid of the hero of the level. However, if you manage to slip up and let Badman get captured by a hero, the entire game comes to a screeching halt and you'll have to start over from the VERY BEGINNING. I found that to be unnecessarily harsh seeing that the difficulty ramps up very quickly and doesn't let up. You'll need to be on your toes every second to see the game through to completion. NIS never was one to reward laziness in gamers, though. Just look at the Disgaea series.
If you can't dig Story mode (couldn't resist that pun), then you can try and tackle Challenge mode, which asks you to complete different objectives down a list rather than work toward completion of the main campaign. I found the challenges easier to take on a limited schedule in that you didn't lose the entire game if you failed, giving you a bit more fair leeway.
WDIDTDTML may be a bit tough to swallow, but it makes up for austerity with some hilarious old-school RPG humor, nods to anime, and general willingness to poke fun at itself and other games in similar genres. In what other game can you come across a hero named "Shota" whose description implies that of the popular Japanese hentai archetype? Nowhere! To me, that's what gives the game its simple charm — its attitude says it all. Complemented with slick, 2D graphics and an addictive soundtrack, these are some admirable production values that can be enjoyed on your PSP or PlayStation 3, depending on which version you decide to stick with.
What Did I Do To Deserve This, My Lord?! is an excellent strategy title with an intricate style of gameplay that should keep you occupied for hours. However, just because you complete the tutorial lessons, don't assume you'll master the game instantaneously. This one will take quite a bit of time to finally get under your thumb, but when you get it there, it's doubtful you'll want to remove it for quite some time.