— "I decide whether you can be in the world I choose to exist in."
— "I will talk and you will listen."
— "I'm always trying hard to be loved."
In a family, and indeed in any relationship, matters can become unclear and misunderstood when each individual perceives and engages shared obstacles differently. Outside stresses – being lost, for example – can exacerbate these problems and bring out the worst in people, but perhaps a bit of patience, care, and teamwork have the power to heal, or at least bring about some sort of resolution. Where Is My Heart? expresses these thoughts tangibly in game form, artfully crafting its message through interwoven play mechanics and narrative that speak to players in unison rarely seen in video games.
The simple concept of a family in discord, lost and searching for a way home, translates into complexity of game design that matches the disruption in its minimalistic narrative arc. While stages are each contained within a single screen, their fragmentation eliminates a sense of continuity and forces the mental reconstruction of spatial relationships between the resized and rearranged tiles that at one point, presumably, formed a complete and cohesive picture. Players are lost in this forest, perpetually stepping from areas of familiarity into the perceptually foreign; major transitions – backward, vertically, out of view, across the screen – have the potential to induce pit-of-the-stomach sensations of misplacement, and a despondent longing for the comfort of each subsequent exit.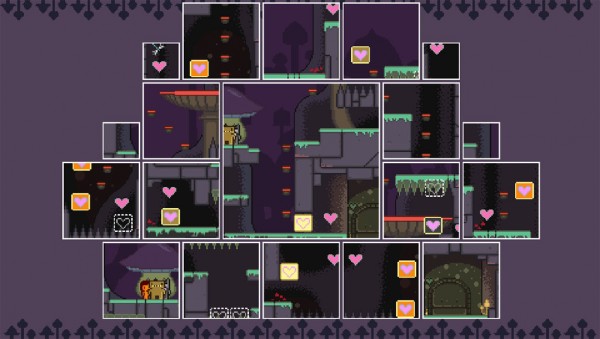 Every step toward the security of home, however, brings a reminder of the deeper troubles between the three monsters under players' control. The two parents love the child, but not each other, while the numbed child escapes into his own imagination to shut them out. These relationships are explicitly, yet briefly, noted between stages. They are illustrated further through play, adding both narrative and mechanical depth to Where Is My Heart?
Standing together on special blocks within each stage transforms one or more of the monsters into their coping forms, which represent the ways each of them approaches their struggles. The child's retreat into a dream world sets him free from the physical limitations of reality, empowering him with the ability to double-jump, as well as turning his parents into mere blips on the radar until he chooses to return from his private, internal existence, placing them back in the real world where he last imagined – perhaps hoped for – them to be. The angry, domineering father is a pathfinder, opening his eyes to hidden paths and platforms in what he cynically sees as a harsh, dangerous, and to a degree, evil, environment, and helping – literally carrying, at times – his family forward. The mother, the most tormented of all, puts on her biggest smile to cover her tears; she's the light-as-a-cloud and woefully artificial Rainbow Spirit… of True Sorrow. Her optimism lets her rearrange the world, shuffling maps around and showing the others the way. Using her special abilities, players can rotate each level's tiles 90 degrees at a time, either taking the entire family along for the ride, or letting the Rainbow Spirit jump out of frame and land in whichever fragment ends up beneath her. She wants so badly to make it home that she can literally put herself somewhere else to help her family move forward.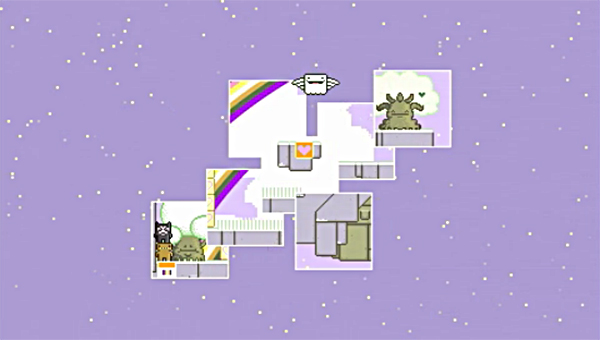 Navigating the labyrinthine forest that is Where Is My Heart? demands attention, patience, forethought, and cooperation. The game's requirement that players alternate between characters, using their strengths together to advance and to recover lost hearts in ways that would be impossible individually, at times feels like a silent conversation between the three, ultimately leading to resolution. In this way, it eclipses much of what players can find in standard puzzle games, presented in a package whose look and feel remains intimately connected with the medium through which it lovingly delivers its message.