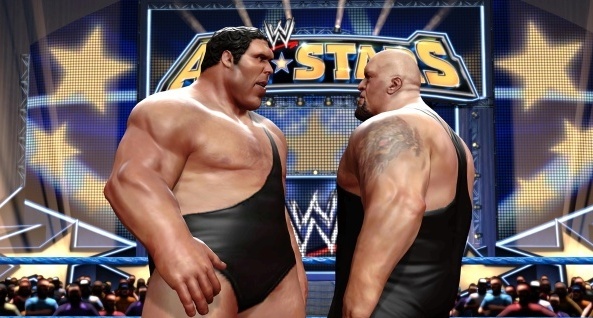 My opponent and I have worked each other to the bone. Into the red, if you will. We're both exhausted and battered from our bout. The crowd is vehemently chanting our names, trying desperately to get behind their favorite star. I size my winded foe up and catch him in a grapple. I lift him above my head for the suplex, but he reverses it, trying to wheel himself and my head down into the mat. However, I'm able to catch his skillful attempt and turn the tide by stalling his momentum and descend with a counter of my own. With him caught, I force the poor soul to the ground and slam him with pure strength. He frantically rushes back to his feat, filled with worry as the crowd's frenzy grows. Before he can realize what's just happened, I've caught him into a swinging neckbreaker. I twirl him in the air three times over with the grace of a swan before smashing him into the canvas with an impact that sends ripples through the ring and arena.
With my adversary stunned and reeling, I let the crowd know I'm going for the finish. The sea of admirers shout in glee as they realize what's about to happen. My semi-conscious enemy gets to his feet but hasn't shaken out the cobwebs. It's his mistake. I pull his arm over my shoulder as mine goes over his chest. We soar into the air as I leap high above the mat. Then, gravity does its work as I slam him down to the floor with a power that can topple buildings. The ring shakes as the crowd explodes. The body of my opponent lays limp; he's been knocked out. Basking in the glory, I lay my foot on his chest as the referee counts to three. I have finally decided the fate of an epic, legendary encounter that has seen many grappling fans arguing and debating for years. The Rock has beaten John Cena.
This is merely a taste of how over-the-top and ridiculously fun WWE All-Stars can be. You will be able to take the greatest legends of yesteryear, from Ricky "The Dragon" Steamboat to Stone Cold Steve Austin, and best Superstars of today, including names like The Miz and Triple H, and put them in epic matchups that fans could only dream about before. Many may wonder just how long that novel fun will last before fading away. Can it provide the level of depth that THQ's other WWE game series, SmackDown! vs. RAW, is able to provide every year? While it can't match up to that other series with regard to depth, variety, and replayability, it will definitely keep wrestling fans occupied for a good chunk of time.
All-Stars prides itself on its aesthetics, bringing about a look and play style that is not just reminiscent of games like NFL Blitz, but the WWE arcade games of the early to mid-1990s. The ridiculously jacked wrestlers, the cartoony art style, and more will give you a tiny wave of nostalgia if you remember such titles. When you perform moves you will do extra flips, send opponents flying around and out of the ring, launch and juggle them into the air, and more. It combines into something all its own, celebrating the over-the-top, larger-than-life factor of wrestling, rather than trying to be realistic.
Each wrestler in the game is put into one of four categories: Big Man, Brawler, Acrobat, and Grappler. Each type has its own advantages and disadvantages. Big Men will hit hard, deal a lot of damage, and hold on to charged strong strikes, but move slowly. Grapplers can chain together grappling maneuvers into insane combos and pins, but they don't have any specialties with strikes. Brawlers can charge up strikes and have long striking combos, but can't hold onto a charged strike. Acrobats can jump, run, and perform top-turnbuckle moves better than any other class, but also get beaten up much quicker.
Although every competitor on the roster is grouped into one of these classes, that doesn't mean that style is all the character is capable of. The class they're put into is simply the one that is most prominent, and each wrestler will posses aspects of additional classes, as well. Some brawlers, like The Rock and Cena, can chain some grapples together, while Kane, a big man, can do some interesting high-flying moves. So even though there is one main trait for each wrestler, you won't see any two wrestlers perform exactly the same. It creates a nice variety that eliminates the boring, repetitive gameplay that a system like this might suggest.
The roster is very robust, featuring fifteen Legends from as far back as Jimmy "Superfly" Snuka and as recent as Shawn Michaels, and fifteen of the top Superstars in the business right now. Some admissions on the Superstars side I felt were questionable (Drew McIntyre, Jack Swagger), considering some that were, in this reviewer's opinion, unfairly left out (Chris Jericho, Daniel Bryan, Dolph Ziggler, Cody Rhodes, Ted DiBiase Jr., Christian, Alberto Del Rio). While the Legends side is satisfying, there are also some who are sorely missed (Ted DiBiase Sr., Dusty Rhodes, Iron Sheik, Jerry Lawler, Mick Foley). Some of these characters are being included as pre-order bonuses and/or DLC. There's also the option to try to create them with Create-a-Superstar, but the move set customization is nowhere near as deep as that of the game's sister franchise.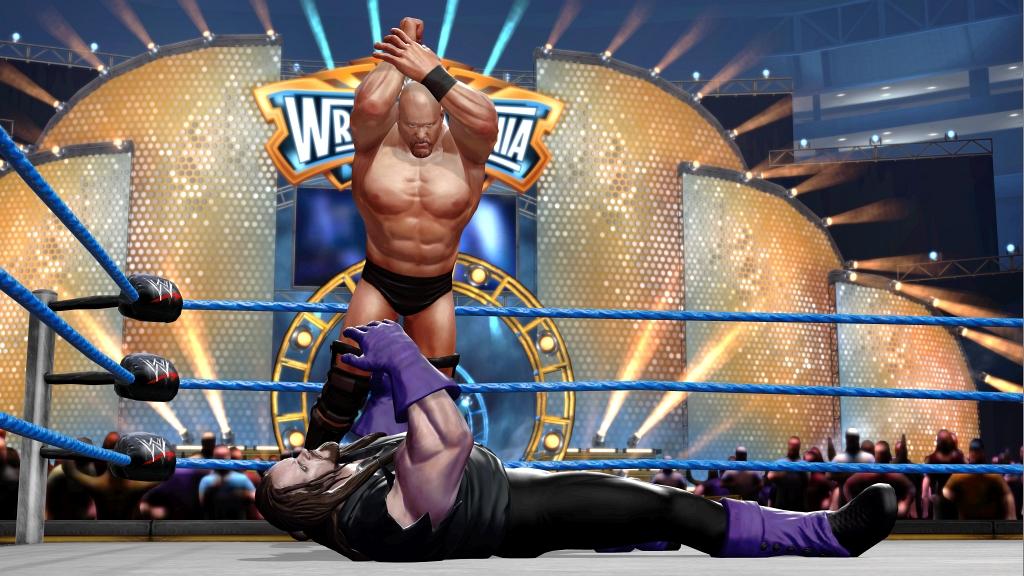 The match types are varied and will keep players content whether they want an old-fashioned throwdown or want to simply bash each other with weapons. Singles, triple threat, fatal four-way, steel cage, tornado tag-team, extreme rules, and handicap matches are all included. Cage matches require a player to exit the cage, unlike current rules where a wrestler can win via either escape, pinfall, or submission. Unfortunately, the handicap match mode should be avoided at all costs for anyone who intends to be on the solo side of the contest. Given the way the game's mechanics work, you will find yourself getting punched like crazy from all directions, have your grapples constantly broken up, and have almost zero breathing room. You will be humbled and beaten senseless quickly, causing you to want to tear your hair out.
As for the game's more story-centric modes, it's a tale of two cities in a way. Fantasy Warfare is a great feature where players take the role of one wrestler in ultimate match-ups to determine who is truly the excellence of execution, greatest undisputed champion, leader of the superior lifestyle, star with the best innovative offense, and more. Each match is introduced with an amazing video reel like you see before major matches at Pay-Per-View events. The people at THQ even meshed promos over each wrestler's career to make it seem like they were cutting them on each other. It's definitely one of biggest highlights of the game, and really makes you feel like these dream engagements are actually about to happen. Best of all, anyone who doesn't want to see them or already has before can just skip straight through to the matches themselves.
The Path of Champions mode sees three 10-match storylines play out with a major player in the WWE waiting at the end for you to take on. The Path of Legends tasks the player with taking on early 90s-era Undertaker, the Path of Superstars will end with a bout against Randy Orton, and the tag team path will culminate with a match against D-Generation X. Before you go through them, you have to get past nine other matches with Legends, Superstars, and teams, respectively, aiming for the same goal as you. Each path has three story segments showing your ultimate adversary cutting a promo to antagonize and warn you. The best of them is from The Undertaker, as he comes complete with Paul Bearer and sends waves of fond and terrifying nostalgia your way.
Unfortunately, the Path of Champions showcases two problems with All-Stars: loading screens and repetition. Between each match players will have to sit through a thirty-second or so loading screen to wait for the next one. This stilted pace and the impatience that comes with it can make the whole mode less enjoyable. Its bigger fault, however, is that it forces players to replay the segments. It's All-Stars' biggest flaw, hands-down, as players will have to beat the Path of Legends and Path of Superstars with each and every character on the roster in order to unlock all of their alternate attires. The task feels more like a chore given the aforementioned loading screens. It takes the fun that has been a driving force in the game and sucks it all right out.
As for the game's replayability as a whole, it ultimately seems to depend on the player. Xbox LIVE matches will be available, but given that I was playing before release, I was unable to find anyone to test it out. The game does allow up to four players per console, so it will make a great title to have for entertaining friends and smack-talking each other in person. Path of Champions can get old, but Fantasy Warfare could keep players busy for many hours, and the number of match types available should warrant enough fun to keep one occupied and mixing it up with the best legends and superstars for quite a while.
WWE All-Stars is a great beat-'em-up wrestling game that can keep you and your friends entertained for hours. The over-the-top style and the number of wrestling greats filling the roster will bring waves of nostalgia to wrestling fans. It's a nice, fresh take on the WWE after so many years of the more realistic but equally fun SmackDown! vs. RAW series. Though some modes may test your patience and/or cause some aggravation, the majority will keep you entertained and having a ball. No wrestling fan should be without it.