Deep down, I've always wanted to be a pro wrestler. I'm sure I'm not the only one; hell, ask Murphy. The roar of the crowd, the electricity in the air before a highly anticipated match… I've always thought it to be one of the coolest experiences imaginable. Regardless of its validity, nothing can beat hearing 20,000 people screaming your name before a big match, I'd bet money on it.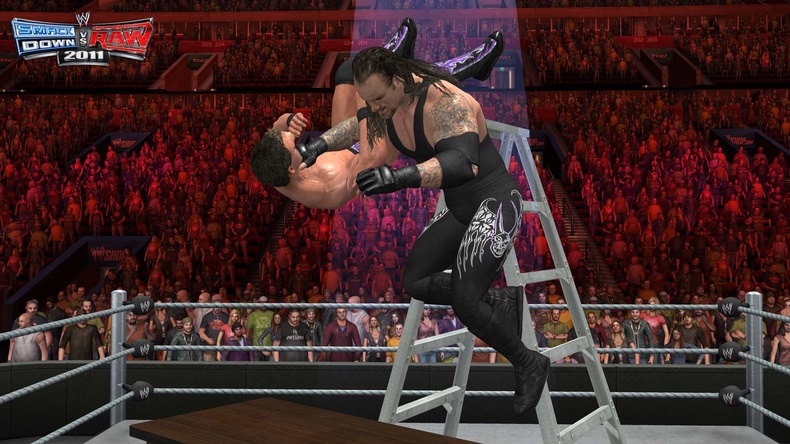 WWE video games have always allowed me to live this dream through digital means. I'd pick my favorite wrestler and have at it. However, there were game-related issues have consistently detracted from the experience, whether it was glitches, bugs, or the inability to slam someone onto a weapon or table without them laying on it first. WWE SmackDown vs Raw 2011 has FINALLY (THE ROCK HAS COME BACK to GAAAAAMERNODE!) answered the call. Table matches will never, EEEEEEEEEVER, be the same AGAIN.
The improved physics are obviously the highlight of the game. Any move can be done on any weapon at any time. If there's a chair on the mat and Kane is going for his Choke Slam, that chair will add to the pain. If Santino Marella performs a suplex on John Morrison with a table behind him, sorry Johnny, but you're going through it. The most brutal that I've performed so far? Undertaker. Tombstone. Ladder. Ouch.
Aside from that, the gameplay is the same as last year, which was much improved from previous years, so no complaints there. Strikes are the same, grapples are the same, and finishers are the same. Also as strong as ever are the aesthetics and presentation of a WWE broadcast. From the wrestler entrances (Undertaker's even gave me chills) to all of the WWE graphics, the WWE broadcast is in full effect here. Of course, the commentary is still lackluster, but that seems to be a common issue. What is impressive compared to last year is the character modeling. Any game that makes a passerby stop and ask, "Are you watching wrestling or playing it?" is very impressive.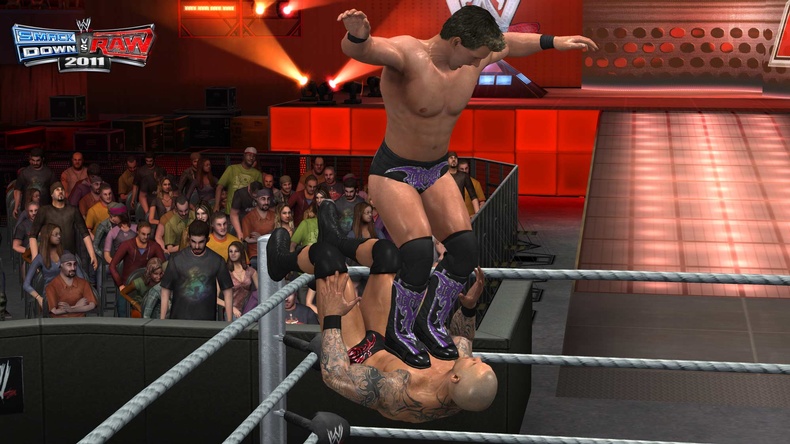 The main new addition is the WWE Universe idea. Essentially, this takes the existing Career Mode and makes it a part of the everyday gaming. If you fight an exhibition match, instead of it meaning nothing, it will be placed in a TV show setting, a la previous iterations' Careers. This makes playing the game fluid and always changing, as you'll never know when you'll start or end the next great feud. What's also cool is that the game has predetermined storyline arcs that are built into this constant Career mode. For example, I decided to play the CPU-generated main event of Edge versus Big Show to decide a #1 contender for the title. I beat Big Show as Edge, but immediately after I did, Vince McMahon came out, said that the match wasn't over yet, and summoned Vladimir Kozlov, starting a new match. I thought this little hook was genius, and the idea of a constantly changing single-player experience equally so.
Unfortunately, not everything is roses in SvR 2011. Road to Wrestlemania is nothing short of tedious. The backstage areas are an interesting idea, but the execution was a bit off to me. Also, the set pattern of backstage/match/next week/repeat got monotonous after a while. Also, the fluidity of the single-player game does not translate to online matches. As in previous WWE games, the online was a glitch fest. I don't think I've finished a match yet. I assume that this will be patched eventually, but I had nothing but issues while trying to get online.
Wrestling fans will be very happy with the presentation and the aesthetics. Gamers will love the constantly change resulting from the decision to make Career Mode part of the normal exhibition mode. Everyone can find a reason to enjoy WWE SmackDown vs Raw 2011. Now, if you'll excuse me, there's a chair on the mat, and I'm about to introduce Randy Orton's head to it.
AND THAT'S THE BOTTOM LINE, 'CUZ BIG MAN SAID SO.