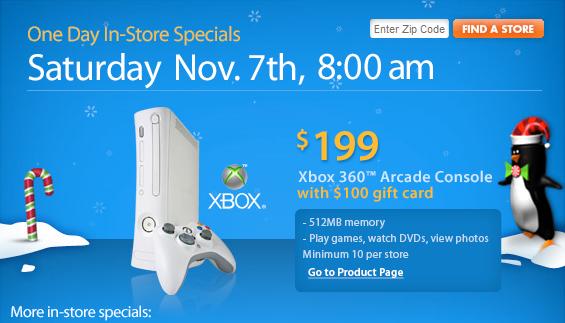 As an attempt to alleviate the onslaught of shoppers that bombard stores during the dreaded Black Friday, retail giant Walmart will hold weekly and one-day sales of certain products leading up to the holiday shopping season — starting with the Xbox 360 Arcade priced at a tantalizing $199 on November 7. Too good to be true? Evidently not.
Confirmed earlier today, the price-cut of the console will hopefully alleviate expensive or out-of-stock console shopping woes that betide upon parents and other holiday shoppers. A $100 gift card is also thrown in to sweeten the deal.
If gaming consoles aren't on your list this holiday season, consider the additional electronic items that are discounted this coming Saturday — TVs, a Blu-ray player, a DVD player, and a laptop.
Check out Walmart's official sale website for more information.
[Walmart]