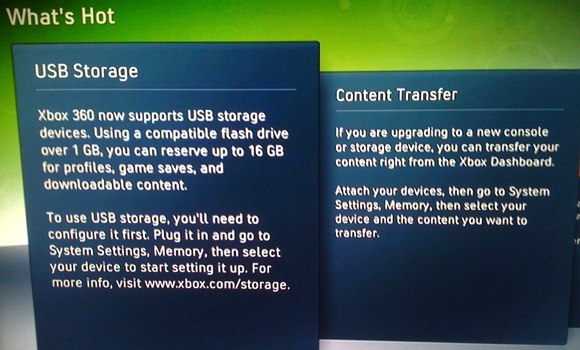 A new system update has gone live for the Xbox 360 that allows support for players to use USB Memory storage devices. Major Nelson announced on his own website this morning that the mandatory update will prompt players to download it as soon as they sign onto Xbox Live.
The new update will allow players to use a USB Memory storage device to hold up to 16GB for profiles, game saves, and DLC and must be at least 1GB in size. Not all USB storage devices will be compatible with the new update however, and Microsoft has announced that they will be releasing an officially supported Xbox 360 SanDisk USB Flash Drive.
Players wanting to have the 16GB of Xbox 360 storage not delete everything else on their USB storage device will be wise to select the customize option when configuring the device to the console. Otherwise everything else on the USB device will be erased. After selecting customize, players can then select how much storage space they want to set aside on their device.
Any other information regarding the new update can be found on the FAQ at Xbox.com.