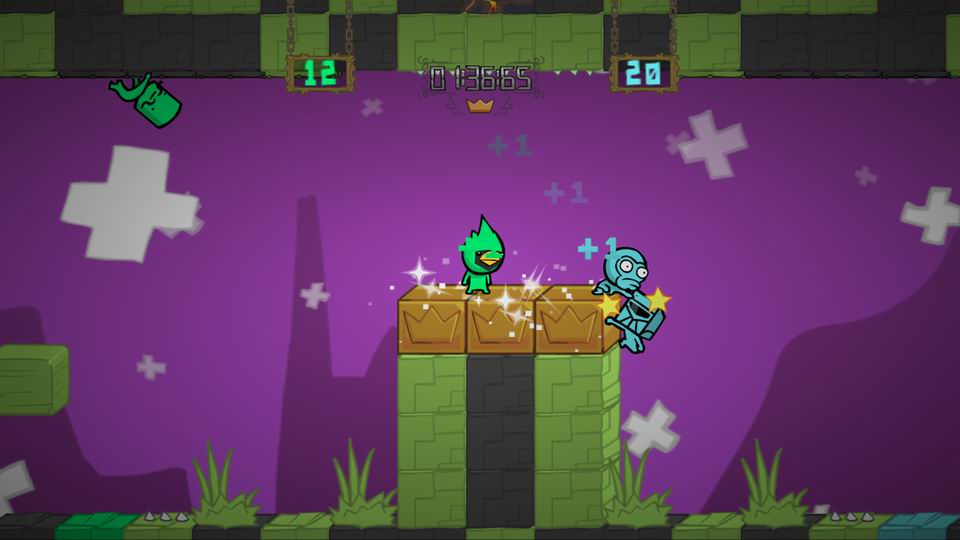 The Behemoth has remained relatively quiet about their latest project, BattleBlock Theater, since its announcement last year, but the twelve-person studio arrived at PAX East 2011 with plenty to show. Six hand-made arcade cabinets, two of which featured DLC for Castle Crashers and four that housed three-level cooperative demos for the charming new cubic platformer, lured fans and press alike to the small booth at the back of the show floor where BattleBlock Theater got its first real public testing. It's got every bit of humor and cartoony violence that Lead Artist Dan Paladin infuses into all the developer's games, along with a new level of character customization in appearance and functionality. But like Castle Crashers, BattleBlock Theater is at its best in cooperative gameplay, where a helping hand or mischievous trickster can show off their version of teamwork, making for plenty of laughs and off-screen collaborating that few other platformers achieve or even encourage.
For this demo, each rectangular level in BattleBlock Theater is a stage on which the prisoners (players) must get from beginning to end while collecting gems and yarn balls hidden throughout. Of course it's not all that simple. Most of the blocks that compose each stage have some special property — ice, fans, lava, teleporters, bouncing pads, etc. All of these have to be utilized to traverse the cartoon space (in addition to auxiliary items like jetpacks, wings, mounts), and many require some clever cooperative contributions to utilize for the player's benefit. Thankfully, BattleBlock Theater supports up to four-player online co-op so achieving the multiplayer-specific feats shouldn't prove too difficult.
Customization plays a big role in each player's BattleBlock Theater experience, especially when it comes to item choice. The items in the demo ranged from an exploding Frisbee to a suction cup top hat to a giant golf ball. Some, like the hat, can aid in environmental navigation by creating new ledges or pods to stand on. Others, like the Frisbee, function mainly as a weapon. Though enemies were few and far between, nailing a ninja cat with a disc, sending him flying into a small pool, and watching him drown was sadistically and hilariously satisfying.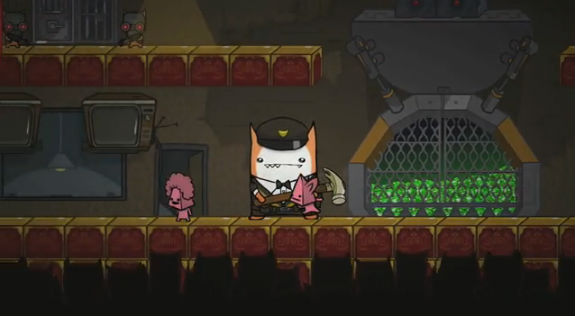 Speaking of hilarious satisfaction, nowhere does The Behemoth charm shine through more than the player-to-player interactions. Like New Super Mario Bros. Wii, co-op is only as cooperative as each player deems. One team member may choose to constantly barrage his crew with triangles while the other may offer a boost for long-jumps. Though teamwork is preferable for completing levels, there's no doubt that almost every player will fall victim at least once to the dark allure of friendly fire. Again, this fits perfectly with the character of the game and the light-hearted disposition The Behemoth takes with all its projects.
BattleBlock Theater is not currently planned to be a "build-and-play" type of game, but given the block-based level design it would be a shame for The Behemoth to not include the option for user-created content. The tools seem to all be there, and the game is different enough from the LittleBigPlanet series to carve out its own niche in terms of casual in-game level building. Even without such a component, however, BattleBlock Theater still looks and plays like Saturday morning cartoons with an attitude… to its credit. No release date has been announced, but be sure to keep your eye out for this plucky, murderous platformer on Xbox LIVE.