Bethesda isn't satisfied to bask in Skyrim's glory. We may be, but the publisher is not. At E3 2012, the company plans to slough off the old (Prey 2, RAGE) and usher in the… fairly recent and new. It's a company known for excellent fantasy, and it looks like its showing at this year's show won't disappoint. From the sci-fi fantasy of a futuristic, Dickensian dystopia to the more traditional fantasy wilds of greater Cyrodiil, to Skyrim's fantastic, Nordic hinterlands, Bethesda plans to take gamers beyond this world in search of high adventure, deep lore, and the ever-elusive element of choice. Here's a look at what this Maryland-based publisher/developer has in store for gamers at E3 2012.
Dishonored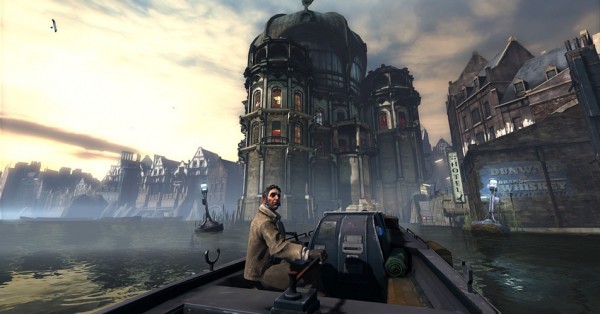 Dickensian, Dickensian, Dickensian! It's a word we're hearing a lot surrounding the steampunk, 19th-century British aesthetic of Dunwall, the setting for Arkane Studios' upcoming rebellion, Dishonored, and it tends to lose some of the social umph that Charles Dickens penned into the seedy streets of Cheapside. It does, however, have a place in this conversation, as Dunwall's ruling aristocracy mimics the rich Londonites that subjugate Pip and crew in Great Expectations, then throws the intensity of a gaming, dystopian veneer (a la BioShock's Rapture) onto the socio-political affair. That's right, the burnt bodies of citizens line the gutters, and the Mr. Calloways drink brandy and laugh maniacally. For the protagonist, Corvo, these Dickensian conditions represent opportunity to be a complete badass (stealth, genetic powers, teleportation, and plenty of stabby-stabby). GamerNode is looking forward to getting a deeper look at this wretched hive of scum and villainy at E3 this year.
The Elder Scrolls Online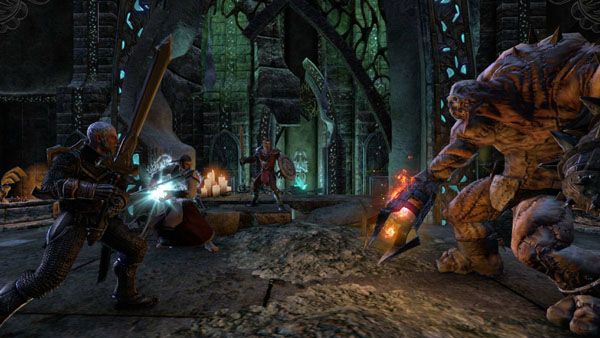 With multiplayer comes change, as is the mantra of Zenimax Studios in their approach to The Elder Scrolls Online. That is, not change to the lore of Cyrodiil, but the way players experience it. In its upcoming MMORPG, Zenimax will introduce Cyrodiil's fated adventurers to one another, a feat that was never accomplished in the singular, prior Elder Scrolls games. In MMO tradition, The Elder Scroll Online will support PvP and PvE, but the larger breadth of the story will rest on the shoulders of the individual. Zenimax has paid attention to the plight of gamers clamoring for more of the same great Elder Scrolls experience, but wants to innovate on that concept with its interactivity. So, the central conflict with the Daedric Prince Molag Bal will remain a solo affair, and everything else will play out as persistent online game worlds do. Cyrodiil is calling, and the MMO world answers.
Skyrim: Dawnguard DLC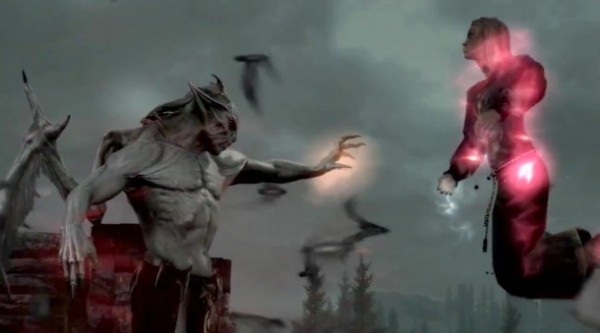 For those who haven't had enough dragon-slaying, mead-chugging, or oath-breaking, Skyrim's first full paid DLC will satisfy the urge. The Dawnguard content will feature all-new areas of Skyrim previously unexplored, as well as a stout binary moral conundrum. To be vampiric or not to be vampiric: that is the question in Bethesda Game Studio's latest offering, featuring daedric lords, vampire lords, and, presumably, the lord of  horses, now that mounted combat will be enabled. Unsatisfied by equestrian endeavors? There are capes too. Regardless of the expanded wardrobe, Dawnguard looks to be a polarizing and tantalizing addition to the lore of the northern lands. Let's just hope those vampires don't migrate south for the winter.
Don't forget to check out the other entries in our E3 2012 Company Spotlight series! Click here to read the rest!