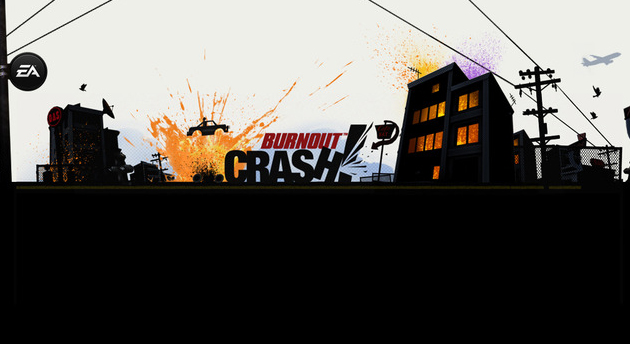 The Burnout series' rise to prominence was in large part due to the crash modes featured in each game. Over the years developer Criterion Games has expanded on that formula significantly, but sometimes you just want to unleash mayhem on intersecting traffic. Luckily Burnout Crash! satisfies that need successfully. Although it can feel repetitive at times, the downloadable, top-down racer also proves quite addicting in short bursts, making it a solid addition to the Burnout franchise.
Burnout Crash! is comprised of 18 different intersections with three game modes for each. The first of these is Road Trip, in which the goal is to crash as many cars as possible without letting any escape. As you cause more and more damage, your crash meter fills. When full, you can trigger a large explosion and control your vehicle at the same time using the aftertouch feature, first introduced in Burnout 3. Once five cars have escaped though, the game ends. It's all relatively simple, but there is some strategy involved. You have to trigger explosions at the right time to block lanes of traffic, and special skill shots net you bonus points.
The second of these modes is Rush Hour, where you have 90 seconds to wreak as much havoc as possible. There is no penalty for escaping cars, and some incredibly bizarre things can take place. For example, any time you wreck a pizza truck, you must spin a wheel that results in either a reward or penalty. These include your score being multiplied or the traffic speed being reduced. The last mode is Pile Up, where you must first wreck cars without making them explode. Once a set number of cars have been destroyed, an inferno phase begins where your goal is to create a series of fires. Your score is multiplied as you keep the fires burning, and the game ends when they are all put out.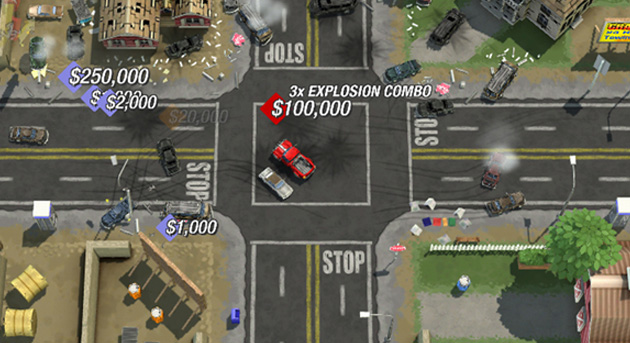 Based on these descriptions, it's obvious that all three game modes are relatively similar. With only slight deviations, things start to feel a bit repetitive after playing for long periods of time. But there's no denying that crashing cars and causing pile-ups is pretty fun, if only in short, controlled bursts.
Helping matters though is the return of autolog from last year's Need for Speed: Hot Pursuit. Autolog tracks your friends' high scores and then makes recommendations accordingly. The result is that extra bit of incentive to tackle a particular intersection yet again in an effort to gain bragging rights. In addition, you can earn up to five stars on each intersection/game mode, which help you earn additional vehicles.
Visually, Burnout Crash! doesn't have a whole lot going for it. The cars and environments aren't very detailed, and the crashes look rather lackluster. But considering this is a top-down racer, graphics aren't necessarily important. The audio certainly stands out, but not in a good way. The sound effects are decent and the music isn't terrible, but the sheer volume of it all is quite annoying. In the early stages of the game you're already welcomed with a barrage of sound effects, voice overs, and blaring music. Then add in an incredibly tedious announcer and you're well on your way to getting a headache.
Anyone considering a purchase of Burnout Crash! should go in with tempered expectations. Sure, it carries the Burnout name, but when it's all boiled down to one aspect of the franchise things can get a bit tiresome. Nevertheless, the gameplay can be fun and addictive at times, and the inclusion of the autolog was a fantastic decision. For $10 that's not too bad of a deal.