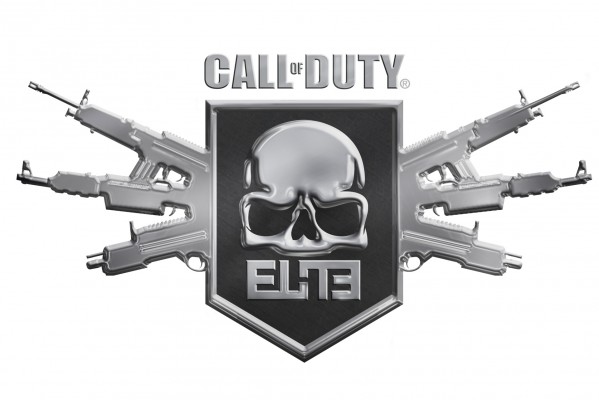 Mammoth reveals by mammoth publishers about the most mammoth game series in history may frighten wooly gamers. History demands the greedy get greedier and the fanboys get angrier. Activision aims to change that; Call of Duty Elite is both a free and paid service.
To be clear, playing any Call of Duty title online will still be free. Call of Duty Elite isn't a new game. It's a flashy and functional web-service (think Bungie.net with the Halo series) offering deep stat-tracking, grouping, and tournament options – a free addition to the already free component of competitive online play. Is everyone still breathing? Good.
Why, then, should Activision play around with its clearly proven formula (if it ain't broke or something like that)? Eric Hirshberg, CEO of Activision Publishing, explains:
"The average Call of Duty player spends 58 minutes per day playing multiplayer. That is more than the average Facebook user spends per day on Facebook. And yet, right now, there are very few tools to unite and super charge that social community. Whether it's allowing you to connect with your friends, or people of a similar skill level, people who live in your city, people who share your favorite passions, join competitive clans or social groups, or upload, view and comment on the incredible mass of player-generated content, or watch and comment on exclusive created content, Call of Duty Elite will give people more ways to connect with fellow players than ever before. Elite will also allow players of every level to improve their game with an intuitive suite of tools, and compete in tournaments for both real and virtual prizes."
[flash width="540" height="337"]http:/www.youtube.com/v/25TH_suHOhk?fs=1&hl=en_US&rel=0[/flash]
In what seems to be an action motivated not entirely by profit margins (but motivated by profit margins), Activision will be adding to the already free (given a $60 game purchase) online service. And then there's the small matter of a premium service based on monthly subscription fees to support the… well… "customer support" arm of the Elite business.
Still absent of its price, the paid service will "offer a premium membership with a wide range of state-of-the-art services, exclusive entertainment programming, and all-inclusive game content." In other words, it will be a premium service. Activision remains vague on particulars of money-enhanced Elite, though the exclusive features are sure to make an appearance at E3 next week.
For those not willing to fork over a monthly cash flow, Elite will still be a distinct upgrade. The service will work in part retroactively on the Black Ops platform, but is intended for full use at launch with Modern Warfare 3 on November 8, 2011. Now for the nits and grits.
Elite comprises three central services: Connect, Compete, and Improve. A painfully thorough career breakdown rounds out Elite's menu, capturing every bloodied body and bonus.
Career acts like a hub for Elite's triangle of functions, forms the skeleton on which to hang the meat. All the minutiae of weapon effectiveness, K/D ratios, leaderboard rankings, groups, and tournaments are caught in Career for a quick overview before diving into the deep end.
Connect comes as one of the most promising elements of Elite – a way to filter out angry, racist elementary school students. Groups can self-organize by location, favorite TV shows, fans of GamerNode, and just about anything else. They are then ranked by skill and matched with teams of commensurate killing ability. Welcome skill-based matchmaking for the masses, at last.
Clans will stick around in Elite, giving players another way to join the fight with friends. Clans and groups can play together ad nauseum and track each other's stats, classes, even match footage. Like any social media today, group and clan members can tag others in their party and send messages or gifts.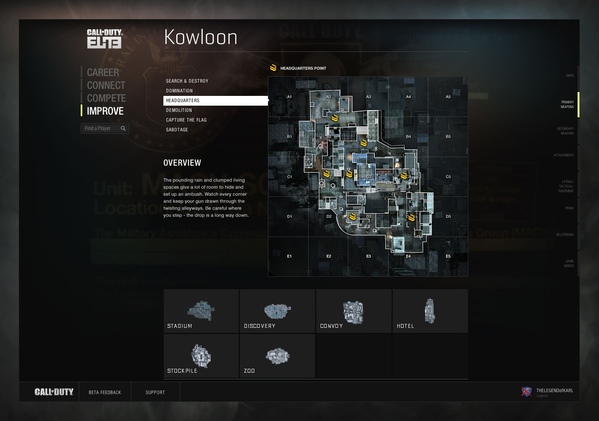 Compete will likely draw more players to the service than any other feature with the age-old motivator: rewards. And Elite Compete won't just throw a few skins at the winners of these matches, but may even toss in real prizes. Everything ranging from a Call of Duty poster to the Black Ops Edition Jeep are potentially up for grabs in bouts that test combat mettle, among other skills. Imagine receiving a limited edition Captain Price Koozie for snapping some epic in-game footage or achieiving the top rank in a Spec Ops challenge.
The average CoD player, the majority of the 20 million monthly visitors, doesn't have a prayer against the pros in these competitions, so Activision tops off the suite of services with a little training. Improve contains the annals of statistics that can boost performance, like which weapon works where, and apparently why advice from professional CoD gamers will aid in the firefight fitness regimen. And it's all personalized by account, so dodgy snipers can be encouraged to hone their shotgun skills instead.
For the die-hards that can't be satiated by mere statistics or wooed by pay-to-enhance services, Elite will migrate to other digital platforms for constant electronic review. Activision has confirmed that Elite will be accessible, at least in part, on the web and iOS and Android devices, taking the intense action of the first-person shooter and… putting a statistical analysis of it in browsers and pockets.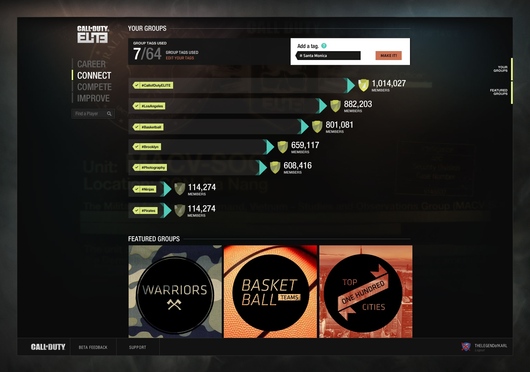 Finally, if November 8 is just too far away, Elite will be in a public beta this summer. Public, in this case, means sign up right away at www.callofduty.com/elite for an opportunity, however slim, to see the evolution of this monster franchise before the big drop this fall.